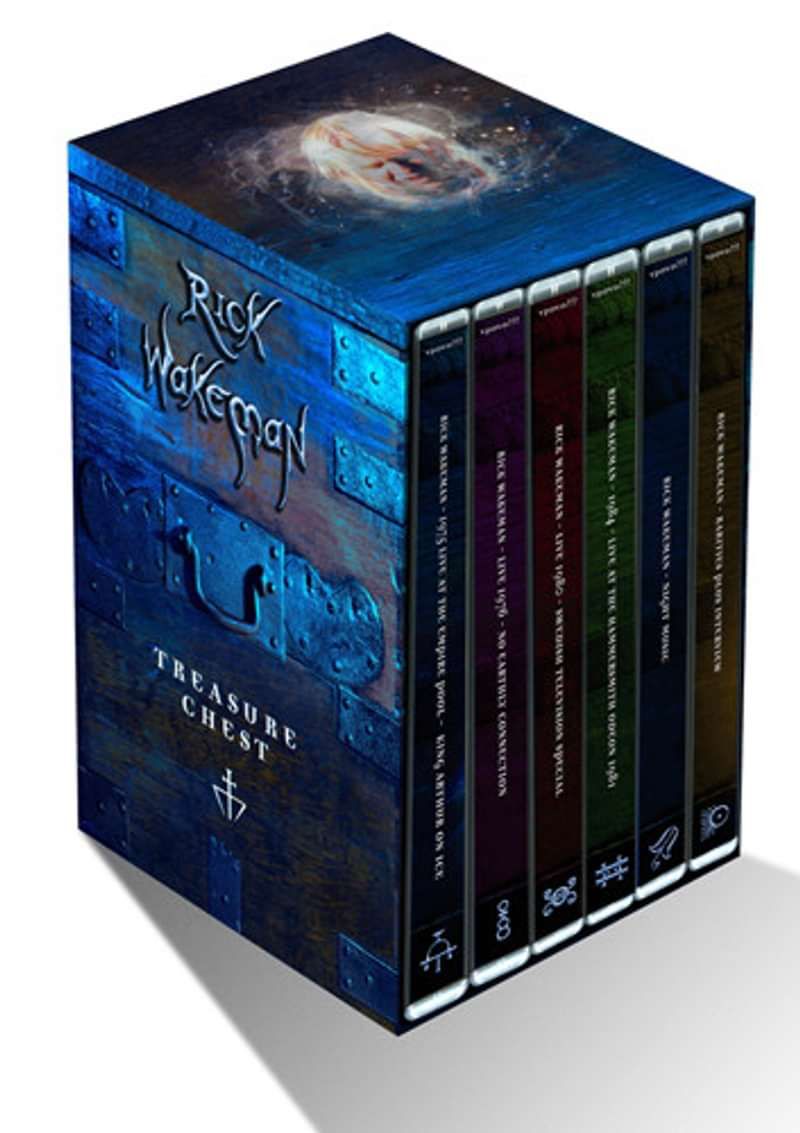 Video Vaults Signed 6 DVD Box Set
All Discs are NTSC 0 encoded.
The Video Vault, as the title suggests, is a boxed set of six DVDs covering a number of performances and concerts that had been gathering dust in the Wakeman vaults. As a gift for the ultimate Wakeman fan, this boxed set of DVDs would be an ideal gift. As a collector, the box also gathers together a number of key concerts and performances from Rick's long and varied career. Dusted down and presented here, the six DVDs include...
Disc 1 - 1975 Live at the Empire Pool King Arthur on Ice
Free Song
The Battle
Catherine Howard
Anne Boleyn
Lamorak's March
Rick's Charleston
Arthur
Lady of the Lake
Guinevere
Sir Lancelot and the Black Knight
Sir Galahad
The Last Battle

Disc 2 - Live at the Maltings 1976
Journey Medley a. Journey Overture b. The Journey c. The Hansbach
The Realisation
Sir Lancelot and the Black Knight
The Spaceman
Catherine Parr
The Prisoner
Merlin The Magician

Disc 3 - Live 1980 Swedish Television Special
Catherine Parr
No Earthly Connection Medley a. The Warning b. The Prisoner
Anne Boleyn
Happy Birthday Karls Krona
King Arthur Medley a. Arthur b. Galahad c. The last Battle d. Merlin the Magician
Journey to the Centre of the Earth Medley a. Journey Overture b. The Journey c. The Hansbach d. The Battle e. The Forest

Disc 4 - 1984 Live at the Hammersmith Odeon 1981
1984 The Overture a. Incl. Wargames
King Arthur Medley a. The Last Battle b. Arthur c. Sir Lancelot and the black Knight
Sea Horses
Julia
Henry Medley a. Catherine of Aragon b. Anne of Cleves c. Catherine Howard
The Proles
Journey Medley a. The Journey Overture b. The Journey c. The Recollection

Disc 5 - Night Music
Sea Horses
Merlin The Magician
Elgin Mansions
Bedtime Stories
Gone But Not Forgotten
G'ole and Black Pearls
Catherine Howard
Gray's Elegy (with Robert Powell)
After The Ball

Disc 6 - Rarities plus Interview
RW Video Vault Interview
The Overture from 1984
The Barry Norman Interview with Elgin Mansions