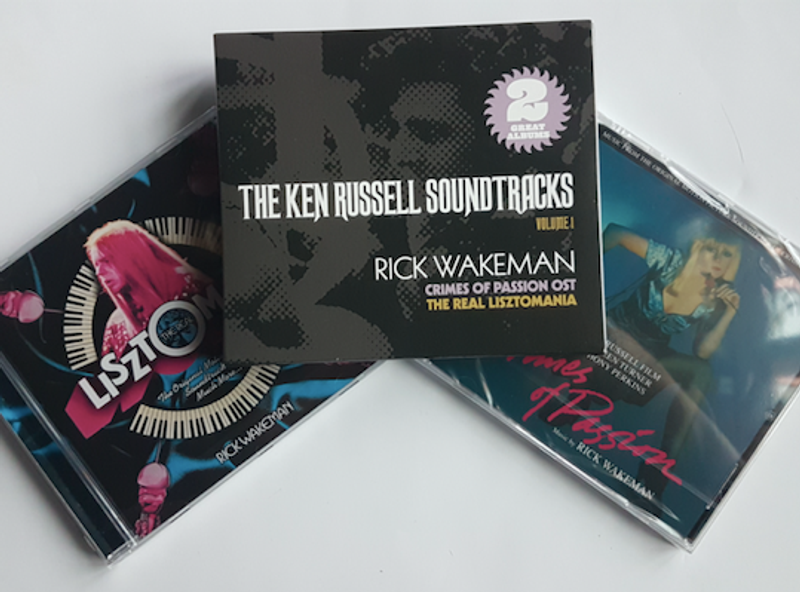 The Ken Russell Soundtracks 2CD
Crimes of Passion & The Real Lizstomania 2CD set
Crimes of Passion
In the early eighties, British enfant terrible Ken Russell travelled to America and placed his unorthodox imprint on a pair of US movies. The first was "Altered States", so out-there its screenwriter disowned it. The second was the equally crazy Crimes of Passion, starring Kathleen Turner (Body Heat, Serial Mom) at the height of her powers.
Fashion designer Joanna Crane (Turner) leads a double life. By night she is China Blue, a prostitute who's attracted the unwanted attention of two men. One is a sexually frustrated private detective hired by her employees. The other is a psychopathic priest (played by Norman Bates himself, Anthony Perkins) in possession of a murderous sex toy.
With its outré screenplay by Barry Sandler and over the top score by Rick Wakeman, Crimes of Passion may just be the most outrageous Ken Russell film ever made – and that's quite some feat!
Track listing
It's a Lovely Life
Eastern Shadows
Joanna
The Stretch
Policeman's Ball
Stax
Taken in Hand
Paradise Lost
The Box
Web of Love
The Real Lisztomania
Lisztomania is a massively eccentric 1975 film by Ken Russell about the nineteenth-century composer Franz Liszt. Depicting the flamboyant Liszt as the first classical pop star, Lisztomania features contemporary rock star Roger Daltrey (of The Who) as Franz Liszt. The film was released the same year as Tommy, which also starred Daltrey and was directed by Russell. Rick Wakeman composed the Lisztomania soundtrack, which included synthesiser arrangements of works by Liszt and Wagner He also appears in the film as the Nordic god of thunder, Thor.
This is an extremely rare find as the master tapes were long since considered destroyed. Back in 1975, Rick was asked to oversee and compose a lot of the music for the film Lisztomania, which was directed by Ken Russell. Rick was also given a part in the film in which he played the god Thor. A soundtrack album was later produced by Rick, which was subsequently turned down by A&M Records, much to Ricks disgust. There were huge disputes going on at the time and they basically hated everything he produced even though he was selling albums for them in multi-millions. It is not commonly known that they actually turned down Journey To The Centre Of The Earth initially and it was only by forcing the contract that Rick had signed with them, that it was ever released. They also initially didn't want to release The Six Wives Of Henry VIII until some vocals were put on it! After rejecting Ricks soundtrack master, A&M then produced a soundtrack of their own which had very little of Rick on it and yet they still thoughtfully put his name on the front cover along with that of Roger Daltrey! Rick was furious, to say the least, and hated the soundtrack album vehemently and told the press accordingly! It sold accordingly dismally! However, the film went on to become one of the cult films of all time and to find this original soundtrack is quite unbelievable as there was only one master ever in existence and yet somehow it has managed to survive more than 25 years in a box amongst some old football shorts!
It was originally released as part of Ricks fabled, Treasure Chest box set of a limited edition of 500 on the Voiceprint label, copies of going for over £500 on eBay. Now back by popular demand, in its rightful place with the film, it is the soundtrack of.
The tapes have been carefully re-mastered and all concerned believe that this is truly something special. Ricks idea was always to try and produce a completely different type of soundtrack and he produced this one by making it into a form of a story with intermittent hilarious narration that runs throughout spoken by Paul Nicholas.
Guest vocalists include Roger Daltrey, Paul Nicholas & *Linda Lewis. It may be more than 40 years since these altercations, but as they say, Better late than never! It is certainly a very different soundtrack to any that have ever been produced in the world of film music. It is very funny too, which is perhaps what we have come to expect from Rick with humour and music in one.
Track listing
The Scene
The Metronome
The Country Sword Dance
Free Song
The Freudian Dream
Dante's Period
Orpheus Song
For the Chop
Hell
Wagner's Dream
The Dream of Hell
The Inferno Ride
Master Race
The Ride of Thor
Excelsior Song
The Guardian Virgins
Rape, Pillage and Clap
Love's Dream
The Suffering
Peace at Last
Love's Dream