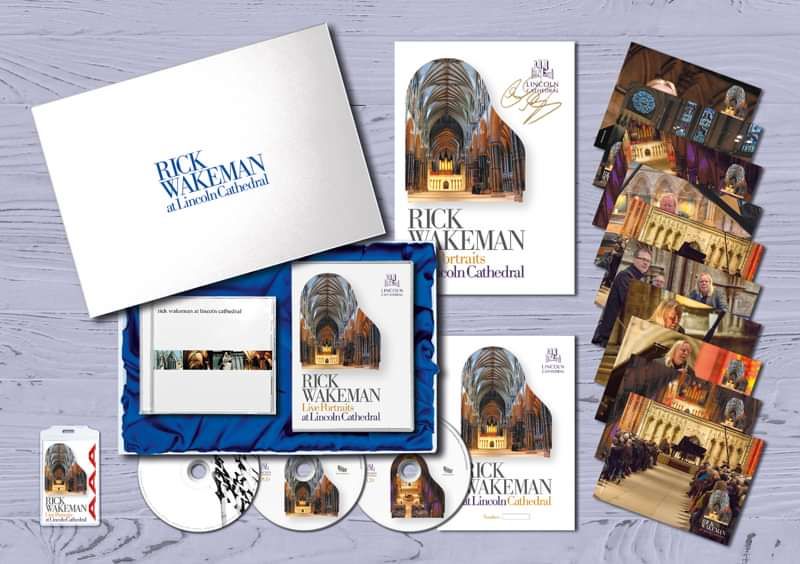 Rick Wakeman at Lincoln Cathedral Box Set
One of Rick Wakeman's more obscure albums, At Lincoln Cathedral is spoken of in hallowed terms by those in the know. Originally released in a limited run of 500, this one-off solo performance, with no audience (except for the crew), recorded on 26 September 2001, it was completely improvised on the spot – no rehearsals, no planning, just pure inspiration pouring from Wakeman's fingers.  It almost didn't happen, as the cathedral's Bishop initially refused to allow anyone to touch the building's renowned pipe organ. When word came back that the hopeful performer wasn't just anyone, a decree was issued: "If it's Rick Wakeman, he can do anything he wants!"
Here are Ricks thoughts about the session
"There are so many emotions that race through the body when seated behind the manuals of a great cathedral organ and the feeling of power that appears to surge through the fingers into the instrument itself and in turn through the pipes themselves is almost unsurpassable.
As opportunities to perform on great cathedral organs are really few and far between, the chance of having a day to play the organ at Lincoln Cathedral was too good to miss. The music I chose was written specifically for the instrument itself and is based around a combination of fixed notation and improvisation fueled by pure emotion". 
Now, the At Lincoln Cathedral 2001 CD is paired with the Live Portraits At Lincoln Cathedral for a CD+DVD box set, plus the event tour program, a numbered certificate, a AAA laminate and ten postcards.
Across the two recordings, expect heavenly inspiration, new arrangements of songs from Rick's past, and a few personal favourites thrown in for good measure. 
The first 100 copies sold will contain a signed program – you'll have to be as fleet-fingered as Rick to catch one!
First 100 box sets signed by Rick!
Contents Include:
Event Program 10 x Postcards Numbered Certificate Laminate
Live Portraits CD/ DVD
The DVD includes exclusively filmed introductions and bonus material, including outtakes.
1 Morning Has Broken 2 And You And I 3 Summertime
4 Swan Lake 5 Space Oddity 6 After The Ball 7 Sweet Georgia Brown 8 Help 9 Amazing Grace 10 Wonderous Stories 11 Merlin The Magician 12 Life On Mars
13 Eleanor Rigby 14 Clair De Lune
At Lincoln Cathedral 2001 CD
1 Soul Mortality 2 Dance Of The Imps 3 Gifts From Heaven 4 The All Mighty Almighty 5 Dawn And Dusk 6 The Da Vinci Variations