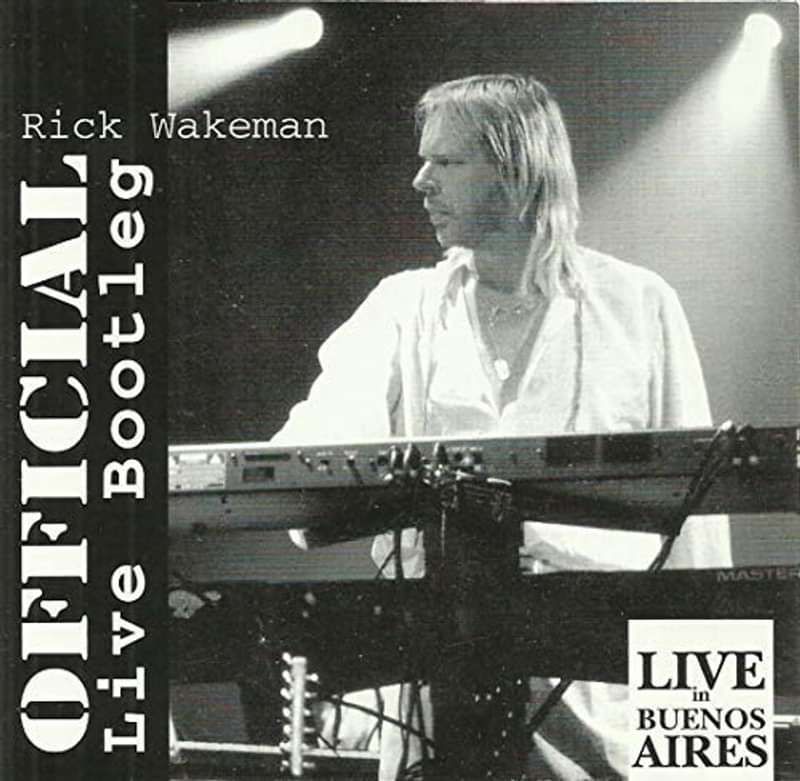 Official Live Bootleg - Live In Buenos Aires, 1993 2CD set
This two cd set was recorded live in front of 8,000 people in Buenos Aires, Argentina during August 1993. On this tour, Rick Wakeman was accompanied by his son Adam who also plays keyboards, long-time collaborator Tony Fernandez on drums and Alan Thomson on bass.
"Lure of the Wild" opens the first cd with an atmospheric intro and some typically dazzling speed playing from Wakeman. Live regulars "Catherine Howard" and "Catherine Parr" both give Wakeman the opportunity to play a bit with the basic pieces, a task he accepts with relish. The arrangement of the Beatles' "Eleanor Rigby", is wonderful and a great live piece. Highlights from "The Myths and Legends of King Arthur" are played without the vocal accompaniment which makes an interesting change.
The second cd is almost entirely devoted to "Journey to the Centre of the Earth" and very good it is too. Again, no vocals allows the music to paint the pictures and the arrangements are fantastic. Even if you know "Journey" really well, this live version will give you a whole new perspective on it. Wakeman's interpretation of "Paint it Black" the Rolling Stones hit, is the last track on the cd and is absolutely stunning.
Throughout, it's practically note-perfect and as the sleeve notes say, no jiggery-pokery has been done to the recording at the mastering stage so you can be assured this is exactly as the audience heard it.
Rick Wakeman is at his very best in front of an audience and this cd proves it in great style.
Track Listing:
Disc 1.
1 Lure Of The Wild 2 Catherine Howard
3 Eleanor Rigby
4 The Myths And Legends Of King Arthur And The Knights Of The Round Table 4.1 King Arthur Overture
4.2 Arthur
4.3 The Last Battle 5 Catherine Parr
Disc 2.
1 Journey To The Center Of The Earth
1.1 The Journey 1.2 The Recollection
1.3 The Battle
1.4 The Forest
2 Paint It Black