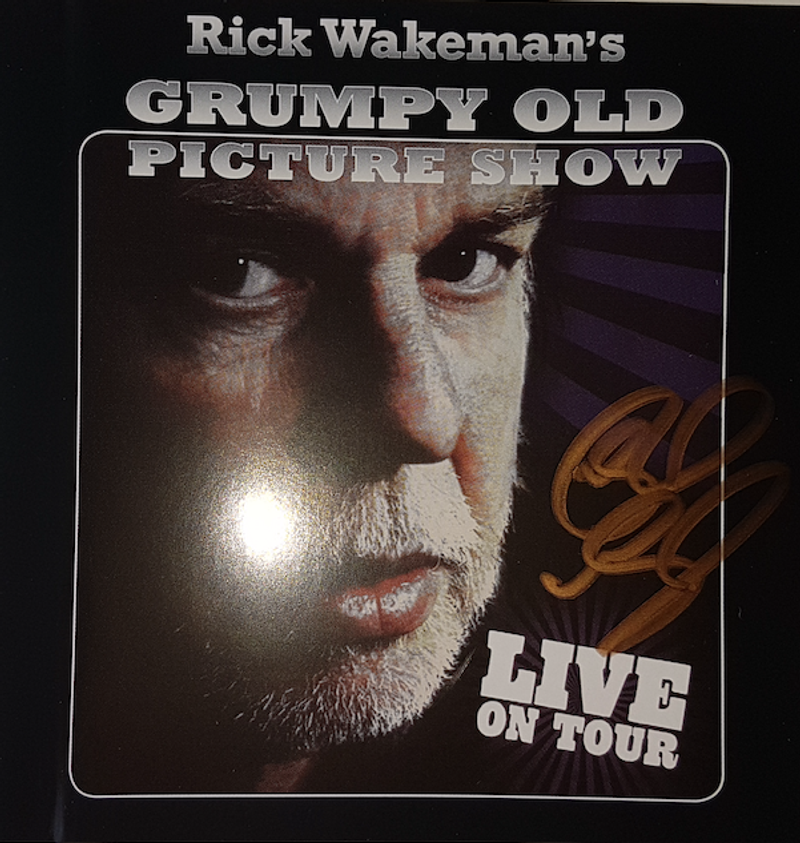 Grumpy Old Picture Show Signed double CD/DVD
Presenting Rick Wakeman's Grumpy Old Picture Show recorded Live on Tour. This DVD/CD sees him reprise his very popular role from the BBC Hit Series, 'Grumpy Old Men', in a hilarious one-man show.
Take a front row seat as one of Rock's most legendary stars groans, moans and rants his way through the frustrations, irritations and issues with modern life. Delivered in side-splitting fashion, this hilarious one-man show also traces the extraordinary life, times, and escapades of Grumpy Old Wakeman, enhanced with rare photographs, music and previously unseen footage.
The iconic rock legend identifies with the masses, as he moans and rants his way through the frustrations and irritations of modern life. Delivered in a highly amusing fashion, Wakeman creates a riotous pastiche of his extraordinary life and escapades, which every self-confessed 'grump' will chortle in relation to.
Featuring performance collaborations with Gordon Giltrap, Jemma Wakeman, Chris Blakey, The English Rock Ensemble and The English Chamber Choir.
Track listing:
01 See A Monkey On A Stick 02 The Jig 03 Sea Horses (feat. The English Rock Ensemble) 04 Birdman Of Alcatraz 05 Judas Iscariot (feat. The Children's Choir) 06 Alway With Me 07 An Angel Spoke To Me" (feat. Jemma Wakeman & Chris Blakey) 08 Eleanor Rigby 09 Tigger The Bounce 10 Counter Attack (feat. Gordon Giltrap) 11 Merlin The Magician 12 Amazing Grace (feat. Jemma Wakeman & The English Chamber Choir) 13 Starship Trooper (feat. The English Rock Ensemble) 14 The Six Wives Medley/The Day Thou Gaves (feat. The Children's Choir)