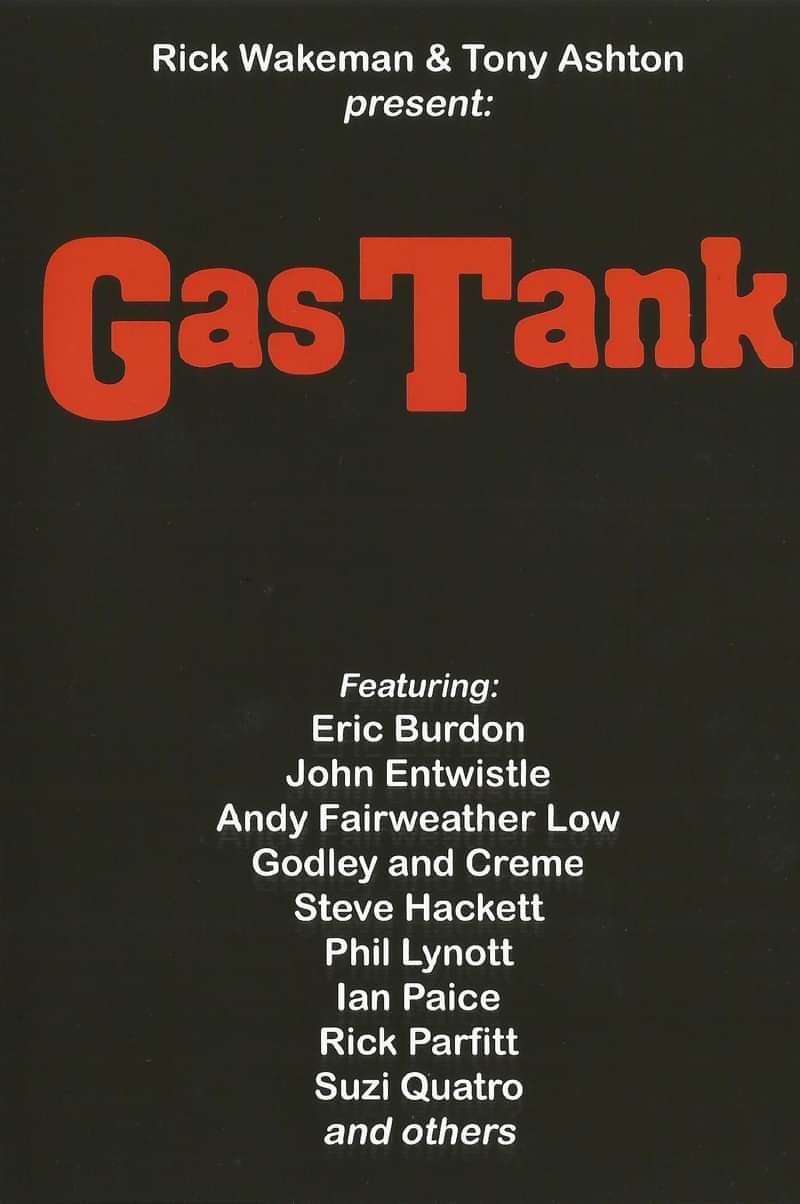 GasTank Double DVD
Double DVD – Nearly 6 hours of footage, every second of the shows shown back in the day.
For those who don't know. Gas Tank was an English television show that aired between 1982 1983 on Channel 4. Hosted by Rick Wakeman and Tony Ashton the show featured a mix of interviews with 1970s musicians and impromptu performances where the guest artist would join Rick and Tony with their house band in playing re-arranged versions of their classic songs, or entirely new pieces created for the show. The format was very informal with the setting likened to a bar where Wakeman and Ashton would interview the guests over a drink or two followed by their performance in front of a small studio audience sitting in groups at tables. They would frequently cite the show as an opportunity for musicians from different bands to get the opportunity to work together.
During its run, the show featured guests as diverse as Ian Paice, Rick Parfitt, Steve Hackett, Andy Fairweather Low, John Entwistle, Godley and Creme, Eric Burdon, Suzy Quatro, Eric Burdon and Phil Lynott.
Now for the first time on DVD all the episodes of Gas Tank along with a CD of these now seminal music performances of Rick, Tony and their guests.
Track Listing:
Disc 1
Episode 1 I Had to Laugh | Little Lady | Rain | Catherine Howard | Raggy | He Gave Up To I | Cigarettes! | Heart Attack | Trying To Get Back To You | R n R medley/Be Bop A Lula Episode 2 Aeroplane | Man Smart, Woman Smarter | Wide Eyed and Legless | In The Midnight Hour | Gerrard Street | Catherine Parr |Blackpool s 1st Twist Victim | Crazy | Episode 3 TV Set | Growing Up | The Man s A Fool | Keyboard Adlib | Mellow Yellow | Lalena | Staring Outta Windows | Stormy Monday Blues | Lucille
Disc 2
Episode 4 Gas Tank | I May Be Wrong (But I Won t Be Wrong Always) | Tell Me Baby What s On Your Mind | Resurrection Shuffle | Possibly | My Babe | CC Rider | Sweet Little Rock n Roller | Episode 5 I Do Like To Be Beside The Seaside | Mr Soft | It s Weird | The Hangman | Elgin Mansions | Jam & The Blues | Twist & Shout | Go America | Episode 6 Why Oh Why? | California Man | I Got My Eyes On You | Gone But Not Forgotten | He ll Have To Go | My Soul Wants to be with Jah... | Deep Pockets | Camino Royale (Hackett to Pieces) | Hackett s Bogie | Hackett s Bogie (Reprise)
NTSC Region 0