Dave Scott-Morgan is a sole trader. Mandy Scott-Morgan is a sole trader. Their brand names include Dave Scott-Morgan, Morganisation and Grimm Doo Records.
Under data protection law you have rights and we want to make sure that we are treating your personal data with the care it deserves to be treated with and that you are fully informed. As such, if you have questions you can ask us at: dataprotection@scottmorgan.co.uk.
What is this Privacy Policy for? This privacy policy is for the processing of personal data visitors to the davescottmorgan or scottmorgan.co.uk or grimmdoo.co.uk websites and Morganisation website. Should you have any questions about any information contained in this policy, please do not hesitate to contact us.
What personal data do we collect? Certain information about you is collected and processed for various reasons by musicglue.com who process all our sales orders and mailchimp.com who hold your e-mail address. They can be contacted here for their policies The Rocket Science Group, LLC 675 Ponce de Leon Ave NE, Suite 5000, Atlanta, GA 30308 USA.
This section outlines the type of information that is collected. What data, What we use it for, Legal Condition, Legitimate interests, Marketing Explicit consent. Communications Performance of Contract Provide feedback Enquiries/complaints, Performance of Contract, Email Marketing Explicit consent, Fanships, Legal obligation
How long will we keep the personal data we collect? The length of time we keep your personal data for greatly depends on the reason we collected it in the first place. We will only retain if for the length of time necessary to achieve that purpose, unless the law requires us to retain it for longer.
In some cases, this will only be whilst you are browsing the website; in other instances, it might be for the length of time you hold an online account with us, and in yet other circumstances it might be for accounting and legal purposes.
Who do we share your personal data with? There are only several scenario's where we share your information, they are: • Our websites automatically capture certain information about the way you are interacting with it; for example, what you have searched for. Our website also uses tracking software to monitor visitors, to better understand how you use it. This software is provided by Google Analytics, which uses cookies to track visitor usage. The software will save a cookie to your computer's hard drive to track and monitor your engagement and usage of the website, but will not store, save or collect any personal information. For further information, you can read Google's privacy policy here: http://www.google.com/privacy.html. • You can also find the 'Cookie Policy' via mailchimp.com. • As part of the order process via our website, your session will be temporarily transferred to the payment gateway of your choice, in order for you to securely make payment for the products you are purchasing, or the donation you are making. These records may also be viewed by our annual financial auditor. • We use the web services offered by Mailchimp for administration functions and to send emails to you. Where this provider is concerned, your data may be transferred to the United States. The Company subscribes to the EU-US Privacy Shield, which provides appropriate levels of protection. To read more, follow the links below. • If you attend an event hosted at one of our locations, we may be required to share your information with emergency services, such as health professionals, should you require emergency care, or with the legal authorities should this become necessary as part of a criminal investigation.
What are your data rights? To have access to your data and know why we process it? We have written this privacy policy with the view of informing you as to what personal data of yours we process, why we process it, what lawful basis we are relying on to do so, whether we share it with others, your rights in relation to its processing and more.
It is your right, should you wish to, to find out specifically what data we hold on you. If this is the case, the easiest way to do this is to get in touch by emailing us at dataprotection@scottmorgan.co.uk. Please be aware though that should you send your request,we will probably need to ask for some additional information to make sure the request is valid. A such, using the form will make the process quicker and easier for you. If you object to the way we use your personal data There are a couple of occasions where you might object to us processing your data. They are:
Direct Marketing: At some stage, you may have signed up for marketing communications. If you have changed your mind about receiving these, that's OK; you can either unsubscribe in the email or inform us in another way that you no longer want to receive communications of this kind.
You can email us in this regard at dataprotection@scottmorgan.co.uk.
Legitimate Interests: If we have used our legitimate interests as the reason to process your personal data and you feel that your legitimate interests outweigh ours, please get in touch. We will revisit the original balancing test we carried out and do a re-test.
Right to erasure, for us to delete the data we hold on you There might be occasions where you wish to exercise your right to erasure. These could be if we no longer need your personal data for the purpose it was collected for, if you wish to withdraw consent you have previously given us, if we are relying on legitimate interests or if you object to the processing and our grounds for doing so are not sufficient. It could also be if you are objecting to direct marketing or if you think we've processed your data in an unlawful manner.
In any of these cases, please contact us at dataprotection@scottmorgan.co.uk and we will action your request as quickly as possible. What if the data you hold on me is inaccurate? We want to make sure that all the data we hold on you is accurate and up to date. If you think any of it is not, please let us know, we will make every reasonable effort to correct it.
How will we contact you? In order for us to keep you up to date with what is happening with Dave Scott-Morgan or Morganisation we send out mailings by email. In the future we may: make telephone calls to our Partners on an annual basis.• After someone has visited one of our events for the first time, we like to follow up with our delegates by phone to get their feedback on the event.
How can you change your communication preferences? You can change your preferences around how we communicate with you at any time. This can be done in a variety of ways. • By using an "Unsubscribe" link: Every email communication we send out includes instructions on how to unsubscribe from our email mailing lists. Please note, this will only affect our email list, and not any other forms of mailings that you may receive from us. • In writing: Alternatively, you are welcome to write to us and inform us that you would like us to change your communication preferences. You can do so either by email or by post. You can find the relevant addresses in the 'Contact information' section.
Links to third party websites The websites managed by Dave Scott-Morgan may at times need to link you through to another website, not owned by Dave, and we therefore advise our visitors to adopt a policy of caution before clicking any external web links mentioned throughout our websites. We cannot guarantee or verify the contents of any externally linked website despite our best efforts and we therefore cannot accept responsibility or liability for the way in which the externally linked websites may collect or handle personal data. Please always check the privacy policy on any website you visit before providing them with your personal data.
Contact information We trust that this policy is helpful to you and gives you a clear idea of how we handle your personal data. Should you wish to discuss this policy with us, please email dataprotection@scottmorgan.co.uk. Should you subsequently still not be satisfied, you are entitled to lode a complaint with the Information Commissioner's Office (ico), which is the UK's independent authority set up to uphold information rights in the public interest, promoting openness by public bodies and data privacy for individuals. You can contact the ico via their website: https://ico.org.uk/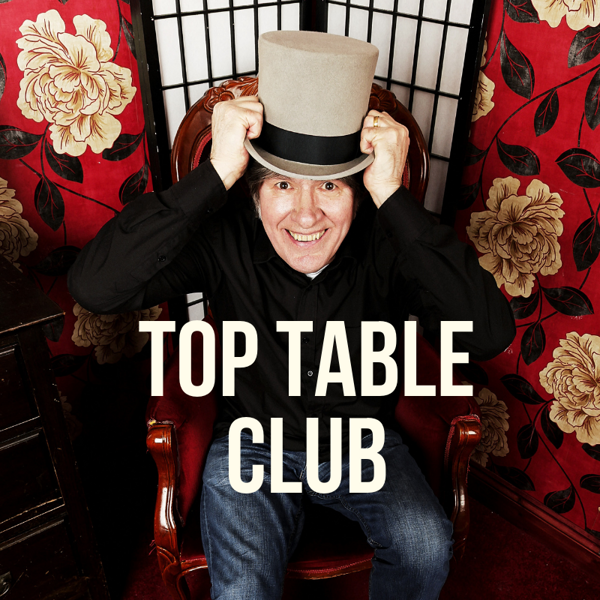 Top Table Membership
$33.47
Join the Morganisation list
By signing up you agree to receive news and offers from Dave Scott-Morgan. You can unsubscribe at any time. For more details see the privacy policy.