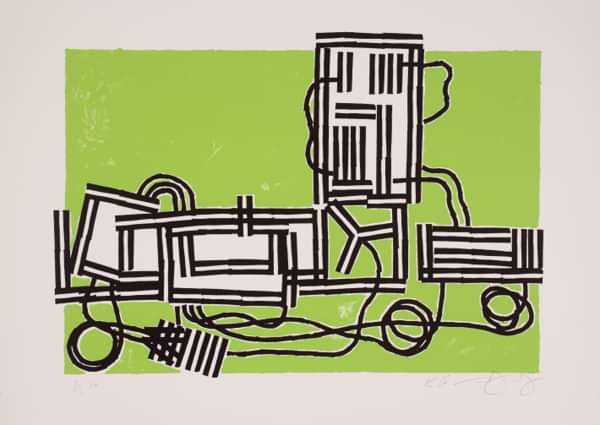 Tommy Grace & Kate Owens 'Some Making (Riser)'
'Some Making (Riser)' originates from Kate's series of block prints that represent aerial views of work surfaces in studios, living spaces or anywhere that making has occurred. For this edition the surface described is a stage riser containing Tommy's synthesizer rig as used during Django Django's 2019 gig at Playground festival, Rouken Glen.
Tommy Grace (b. 1979, Edinburgh) is an artist and musician based in Glasgow and London. He writes and performs in the band Django Django and continues to produce artwork for the band's releases as well as exhibitions. Recent exhibitions include Three Hours of Sunshine, Dundee 2019. Kate Owens (b. 1979, Bo'ness) is a Glasgow based artist. Solo exhibitions include Astral Flesh 2-Way Stretch, Dolph, London (2017) and The Trees Get New Leaves In Spring, New Walk Museum & Gallery, Leicester (2014). She has recently developed performances The Shadow of Your Shadow (2018) with AiR, London and Hard, How Hard? Harder Than That (2014) with Camden Arts Centre, London.
Project organisers: Ruth Ewan, Kitty Anderson (Director of LUX Scotland), Sarah Reid (curator and educator) and Claire Forsyth (Glasgow Print Studio curator). For more information contact Sarah Reid: sarahkreid@me.com
Instagram: instagram.com/glad_editions
Thanks to Glasgow Print Studio, The Passenger Press and Flux Laser & CNC Studio.
https://www.fluxlaserstudio.co.uk
Prints are limited to 2 of each edition and 2 box sets per person.
We ship all prints to UK mainland addresses with the Royal Mail or ParcelForce – both will require a signature on delivery. Internationally, we ship all prints via Royal Mail International Signed For.