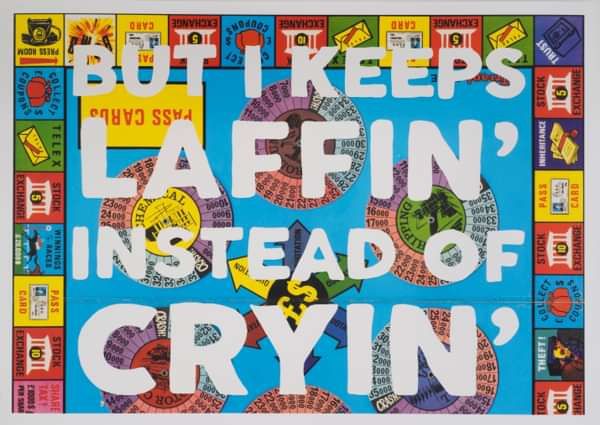 Ruth Ewan 'High Finance (Paul)'
A3 digital and screen print
Ruth's print shows an image of the board from the 1968 game 'High Finance' contrasted with a layer of screen printed text quoting the revised lyrics of the song 'Ol' Man River' from the musical and film Show Boat. The original lyrics were altered by Paul Robeson to reflect his own shifting sense of political struggle and self-empowerment, changing the lyrics from: Ah gits weary, An' sick of tryin' to But I keeps laffin' Instead of cryin'. It is likely this revised version of the song was performed during Robeson's legendary performance on May Day 1960 in Glasgow's Queen's Park.
Ruth Ewan (b.1980, Aberdeen) is an artist based in Glasgow. Recent solo exhibitions and projects include: Asking Out Yorkshire Sculpture Park and It Rains, It Rains CAPC Bordeaux (both 2019). She has created public commissions for High Line, New York (2019), Edinburgh Art Festival, Edinburgh (2018) and Artangel, London (2013 and 2007). Her work is included in the collections of Tate, The British Museum, The Scottish Parliament, FRAC Champagne Ardenne, Museum of Modern Art Warsaw and CAAC Seville.
Project organisers: Ruth Ewan, Kitty Anderson (Director of LUX Scotland), Sarah Reid (curator and educator) and Claire Forsyth (Glasgow Print Studio curator). For more information contact Sarah Reid: sarahkreid@me.com
Instagram: instagram.com/glad_editions
Thanks to Glasgow Print Studio, The Passenger Press and Flux Laser & CNC Studio.
https://www.fluxlaserstudio.co.uk
Prints are limited to 2 of each edition and 2 box sets per person.
We ship all prints to UK mainland addresses with the Royal Mail or ParcelForce – both will require a signature on delivery. Internationally, we ship all prints via Royal Mail International Signed For.