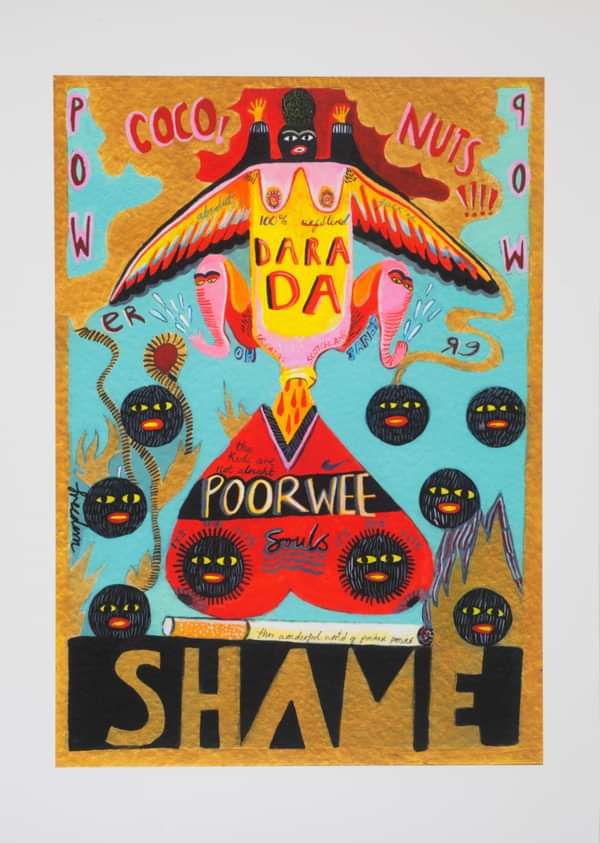 Rabiya Choudhry 'COCO!NUTS!'
A naked, winged, 100% unfiltered bottle of Creative Scotchland rises out of the ashes of the golden word 'SHAME'. The word 'Darada' (meaning disease or pain) drips into the v-neck of a football top from a poor wee soul from the past. Balls of anxiety surround the playing field. The kids are not alright! Where does the power lie when everything has its price? Sometimes it feels like life is the tits! Just rise above it, free yourself from your limitations and take the power back. Rabiya Choudhry (b. 1982, Glasgow) lives and works in Edinburgh. Described by the Scotsman newspaper as, 'one of the wildest and most distinctive artists to come out of a Scottish art school in many years.' Selected exhibitions include COCO!NUTS! at Transmission Gallery (2018), Standard Bearers at Edinburgh Art Festival (2018), Signs of The Times at Tramway (2017) and DCA Thomson at Dundee Contemporary Arts (2016).
Project organisers: Ruth Ewan, Kitty Anderson (Director of LUX Scotland), Sarah Reid (curator and educator) and Claire Forsyth (Glasgow Print Studio curator). For more information contact Sarah Reid: sarahkreid@me.com
Instagram: instagram.com/glad_editions
Thanks to Glasgow Print Studio, The Passenger Press and Flux Laser & CNC Studio.
https://www.fluxlaserstudio.co.uk
Prints are limited to 2 of each edition and 2 box sets per person.
We ship all prints to UK mainland addresses with the Royal Mail or ParcelForce – both will require a signature on delivery. Internationally, we ship all prints via Royal Mail International Signed For.