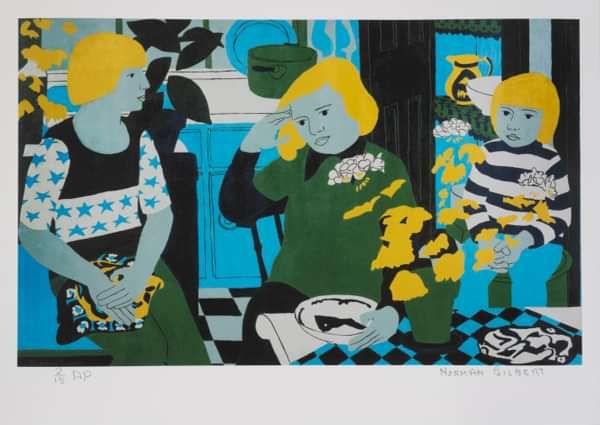 Norman Gilbert 'People in a Kitchen with Plants'
Norman's print is derived from his 1974 painting 'People in a Kitchen with Plants' and depicts his wife and two youngest sons in the kitchen of the top floor tenement flat at the Southern end of Kenmure Street, Pollokshields which they bought in 1965 and owned for twenty years.
Norman Gilbert (b. 1926, Trinidad) is an artist based in Glasgow. His first solo exhibition took place at the Upper Grosvenor Gallery in 1967, the same year Vogue magazine published a feature on his work entitled 'The Loneliness of the Long Distance Painter'. Norman's work has been the subject of two BBC films (1974 and 2018). The first broadcast coincided with his solo show at Edinburgh's Talbot Rice Gallery. To date Norman has had fourteen solo shows, the most recent being at the Tatha Gallery (2019).
Project organisers: Ruth Ewan, Kitty Anderson (Director of LUX Scotland), Sarah Reid (curator and educator) and Claire Forsyth (Glasgow Print Studio curator). For more information contact Sarah Reid: sarahkreid@me.com
Instagram: instagram.com/glad_editions
Thanks to Glasgow Print Studio, The Passenger Press and Flux Laser & CNC Studio.
https://www.fluxlaserstudio.co.uk
Prints are limited to 2 of each edition and 2 box sets per person.