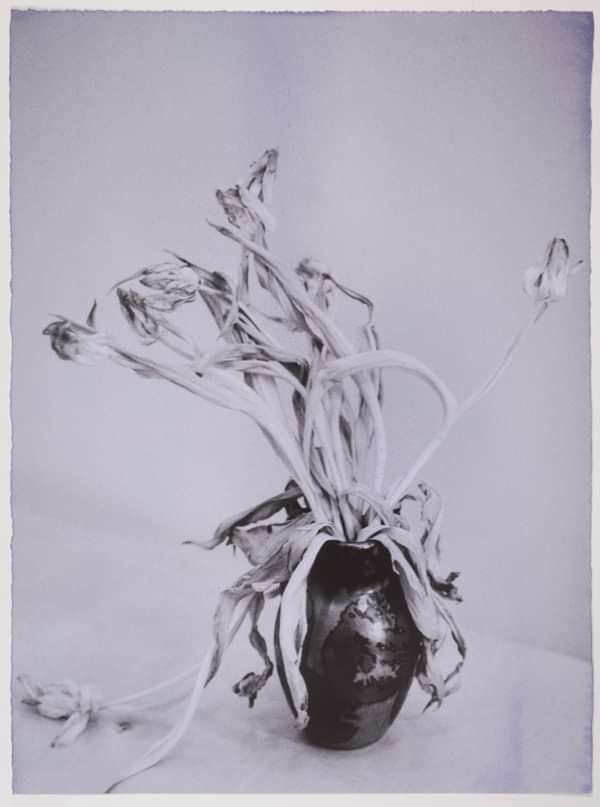 Lorna Macintyre 'Ingrid'
A3 digital print, dylon dye
The image is from a series of photographs made of flowers brought to my home by friends - they take the title of the bringer of the gift as a means of suggesting an oblique portrait of the individual. The image is from a 35mm neg black and white photograph and it's toned in Dylon Ocean Blue dye.
Lorna Macintyre (b. 1977, Glasgow) is an artist based in Glasgow. Having studied for both a BA (1999) and MFA (2007) at the Glasgow School of Art, she now also works there as a visiting lecturer in Fine Art Photography. Macintyre's recent solo exhibitions include: Pieces of You Are Here, Dundee Contemporary Arts (2018), Spolia, Cample Line, Dumfriesshire (2017); Much Marcle, Chapter, Cardiff (2016); Material Language or All Truths Wait in All Things, Mary Mary, Glasgow (2015); Solid Objects, Glasgow Project Room (2015); and Four Paper Fugues, Mount Stuart, Isle of Bute, part of GENERATION, 25 Years of Contemporary Art in Scotland, (2014).
Project organisers: Ruth Ewan, Kitty Anderson (Director of LUX Scotland), Sarah Reid (curator and educator) and Claire Forsyth (Glasgow Print Studio curator). For more information contact Sarah Reid: sarahkreid@me.com
Instagram: instagram.com/glad_editions
Thanks to Glasgow Print Studio, The Passenger Press and Flux Laser & CNC Studio.
https://www.fluxlaserstudio.co.uk
Prints are limited to 2 of each edition and 2 box sets per person.
We ship all prints to UK mainland addresses with the Royal Mail or ParcelForce – both will require a signature on delivery. Internationally, we ship all prints via Royal Mail International Signed For.