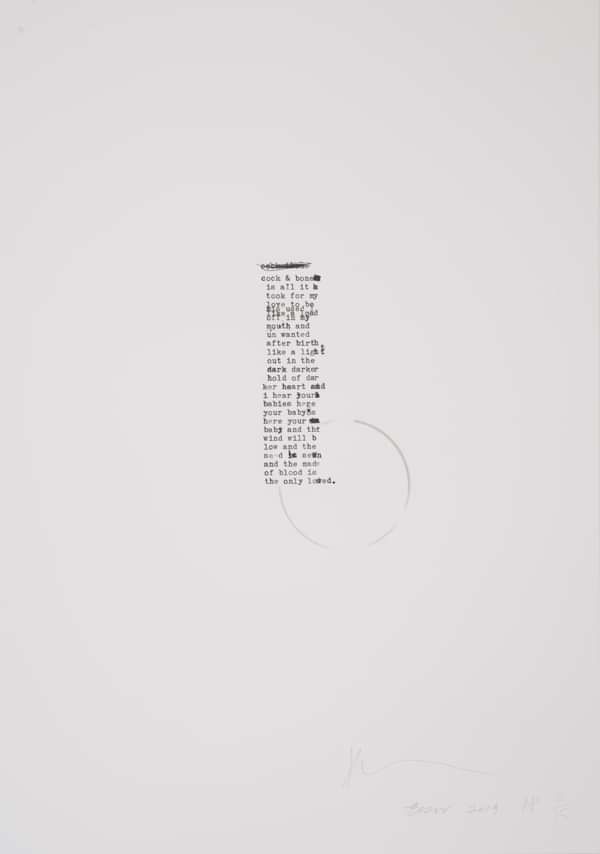 Kathryn Joseph & Rhian Nicolas 'The Blood'
A3 letterpress print, red wine
these blood words were typed as they came out and some had changed when the song was done. it made me feel better to look at them and when the newspaper of words for the first record was being made I couldn't find them and so I feel like they were waiting to be used for something else and I love the glad cafe and every human part of and I love Rhian Nicholas so I am very very happy to be part of and so are my creepy words and stains. - Kathryn Joseph
Rhian Nicolas on their collaboration 'A scrumpled sheet of words and crossings out on plain A4, almost lost, but thank goodness not. I love to see process, how something came into being. This little glimpse of Kathryn Joseph's creative process stuck with me, she showed me a picture of it a few years back. When we were asked if we would like to collaborate, it immediately came to mind and felt like it should be the basis for our Glad edition. Raw, honest and brave.'
Kathryn Joseph is an acclaimed singer songwriter and musician. Her debut album won the 2015 Scottish Album of the Year. Rhian Nicholas runs The Passenger Press, a letterpress and design studio and shop based in Glasgow's Saltmarket who specialise in working with archives and museum collections to produce bespoke print and stationary.
Project organisers: Ruth Ewan, Kitty Anderson (Director of LUX Scotland), Sarah Reid (curator and educator) and Claire Forsyth (Glasgow Print Studio curator). For more information contact Sarah Reid: sarahkreid@me.com
Instagram: instagram.com/glad_editions
Thanks to Glasgow Print Studio, The Passenger Press and Flux Laser & CNC Studio.
https://www.fluxlaserstudio.co.uk
Prints are limited to 2 of each edition and 2 box sets per person.
We ship all prints to UK mainland addresses with the Royal Mail or ParcelForce – both will require a signature on delivery. Internationally, we ship all prints via Royal Mail International Signed For.