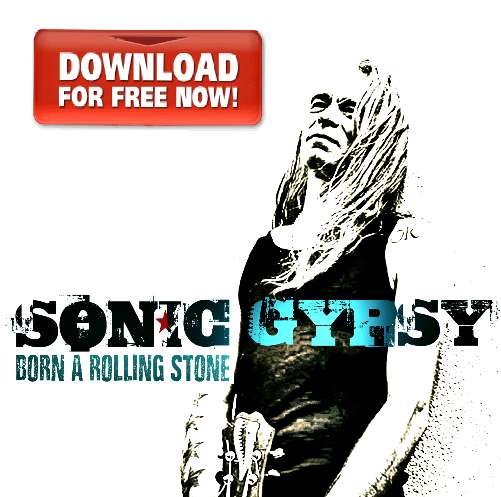 BORN A ROLLING STONE - GET THE FULL DEBUT ALBUM FREE RIGHT NOW!
BORN A ROLLING STONE - The Debut album from The Sonic Gypsy.
Download for free by joining the mailing list to receive news and offers from Sonic Gypsy. You can unsubscribe at any time. We'll also ask you to confirm your location in order to help with future event planning. For more details see the privacy policy.
This service is provided by Music Glue. By submitting this form you agree to the terms and conditions
The Unprecedented Return Of Mr Majestyk
I Was Born A Rolling Stone
Mouthful Of Cactus (Cant Kill A Good Thing)
BORN A ROLLING STONE - The debut album from The Sonic Gypsy
NOW AVAILABLE TO DOWNLOAD FOR FREE! or if you would like to pay us what ever you think its worth, your contribution will go straight to studio time as we are recording the epic new Sonic Gypsy double album.. please go HERE
Mickey Banks (The Sonic Gypsy): Vocal / Electric Slide Guitar Kaptain Boogie (Sploote): Lead Guitar / Dobro / Stompbox Purcy Flaherty (PigMan): Harmonica / Trumpet Piers Pennell (Dub Punk): Bass Mon Duncalf: Drums / Stompbox
Engineered and mixed by: Mon Duncalf at Demon Studios Manchester 2016
Produced by: Sonic Gypsy / Mon Duncalf Artwork: Wayne Edwards Photgrahy: Wayne Edwards / Jessy Lotti Copyright The Sonic Gypsy
Kaptain Boogie is endorsed by Orange Amps
All songs by The Sonic Gypsy / Kaptain Boogie except Apocalypse Ranch and Honeykill (Scorpio Rising)
Contact: Mickey The Sonic Gypsy ss mv "The Heart Of Gold" sonicgypsy@live.co.uk
Song notes:
"Mr Majestyk" is a tribute to Leadbelly's Who Do You Love and is dedicated to my fallen comrades and spiritual advisors Dirk Wiles and David (Hammy) Hamilton
"Born A Rolling Stone" is about me and Kap Boogie..
"Meet Me By The River" was written at 3am at Trentham lock on the Trent and Mersey canal
"Shotgun Tel" is inspired by the one and only Terry Humpheys and features an amazing riff written by Kaptain Boogie and is dedicated to The Unpopular Peoples Lee And Stort Boat Club..
"Honeykill" was originally recorded and released on "IF" by Scorpio Rising
"Mouthful Of Cactus" (Cant Kill A Good Thing) was written on the back of a fag packet in a Ford P100 pickup, on a sunny freezing winter morning..the "sandblasted kid with a face like an insect" was my insane next door neighbors kid.. the "DJ" is Jason Jones, the "Schizos" are the people of Wigan putting out their bins, "black chrome latino" is Mike Peers, "Elvis for the weekend" is Marc Jones, Seratonin Sunrise" refers to my friends on Prozac, "720 no handed" is friend and BMX champ Dylan Clayton...
"Lucifer's Lament" is dedicated to Evelyn June Banks
"Apocalypse Ranch" is from the unreleased Scorpio Rising album "Brutal Deluxe" and was inspired by David Koresh
Special sonic thanks for encouragement and help beyond the call of duty to:
Gal Schmut, Bill Dean, Dylan Gibbons, Nik Nichol, Jessy Lotti, Debbie Berriman, Ed Butler, Lorraine Hesketh, Wayne Edwards, David Stig Renton, Gary Saunders, Rob Power, Jim Smith, Shooter Jennings, Peter Anthony, Boomer Callaghan, Welsh Steve, David Martin, Miles and Jayne Pennington, The Black Heart, Matt Woolf, Jon Vyner and Orange Amps..