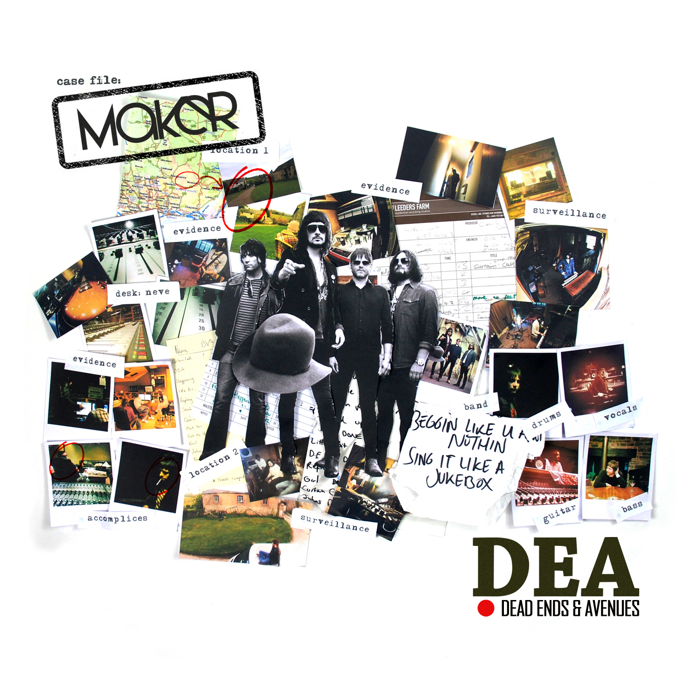 DEA - CD
DEAD ENDS & AVENUES - CD (Vinyl Effect)
'The debut album was recorded at the legendary Rockfield Studios in Wales where artists such as Oasis, The Stone Roses, Queen, Black Sabbath, Kasabian plus many more have all recorded seminal albums.
"When you turn up at Rockfield it immediately elevates you as musicians," says Maker frontman Alessandro Marinelli. "There's a tangible buzz about the place. You hear stories like Freddy Mercury sat on that stool, played that piano, wrote Bohemian Rhapsody. And Liam chased Noel with a cricket bat over there, etc….When you hear those stories, you can't help but want to be a part of it and record something special."
Produced by Nick Brine (The Stone Roses, Oasis, Teenage Fanclub, Imelda May), the album was recorded over just fourteen days, something of a rarity in today's current musical climate. The band wanted to create an album as true to their live sound as possible and, with this in mind, every track was recorded with the band all together playing in the same room (something of a lost art nowadays with many tracks recorded one instrument at a time to a click track, losing all feel and sense of soul in the process). Recording to tape added to the authenticity of the band's timeless pure rock sound. "We definitely prefer to record to tape", says Marinelli. "It seems to create that depth, warmth and authenticity in a record that digital recordings just can't seem to replicate".
The debut album's title, 'DEA', comes from the initials of the album track "Dead Ends & Avenues", a track which the band all felt the track perfectly summed-up their sound. The song itself is about triumph in the face of adversity, making your own luck and succeeding despite life's hurdles. The chorus' lyric, "And to all that I gave, without hope" speaks a universal truth dear to the band; striving for acknowledgement and then flipping a rebellious two finger salute like all the greatest rock'n'roll records.
The band decided early on that they wanted to bookend the album with the the album's lead single, "Soul", and its reprise, "Little Bit Of Soul". "The decision to do that pretty much made itself", says Marinelli. "One is the kick down the doors blast that you want to open an album, whilst the other is the comforting arm you put around a loved one whilst saying 'I think you need a lie-down now after all that excitement'.
Maker guitarist Andrew Donaldson continues; "There was a moment during recording that Nick (our producer) revealed that he owned Noel Gallagher's old acoustic guitar that was used on the album '(What's the Story) Morning Glory?' The actual guitar that was played on "Wonderwall"! As soon as we heard that story, we ordered him to go fetch it so we could use it on "Little Bit Of Soul." It just had to be done".
That's not the only '(What's The Story) Morning Glory?' connection though - the piano featured throughout anthemic 'DEA' album track & iTunes Top 20 hit "Girl Quit Your Crying" - is the very same piano heard on those famous opening notes of another of Gallagher Snr's finest works, "Don't Look Back in Anger".
And in a further Oasis connection, drummer Gavin Donaldson previously managed Liam Gallagher's flagship Carnaby Street Pretty Green clothing store in London.