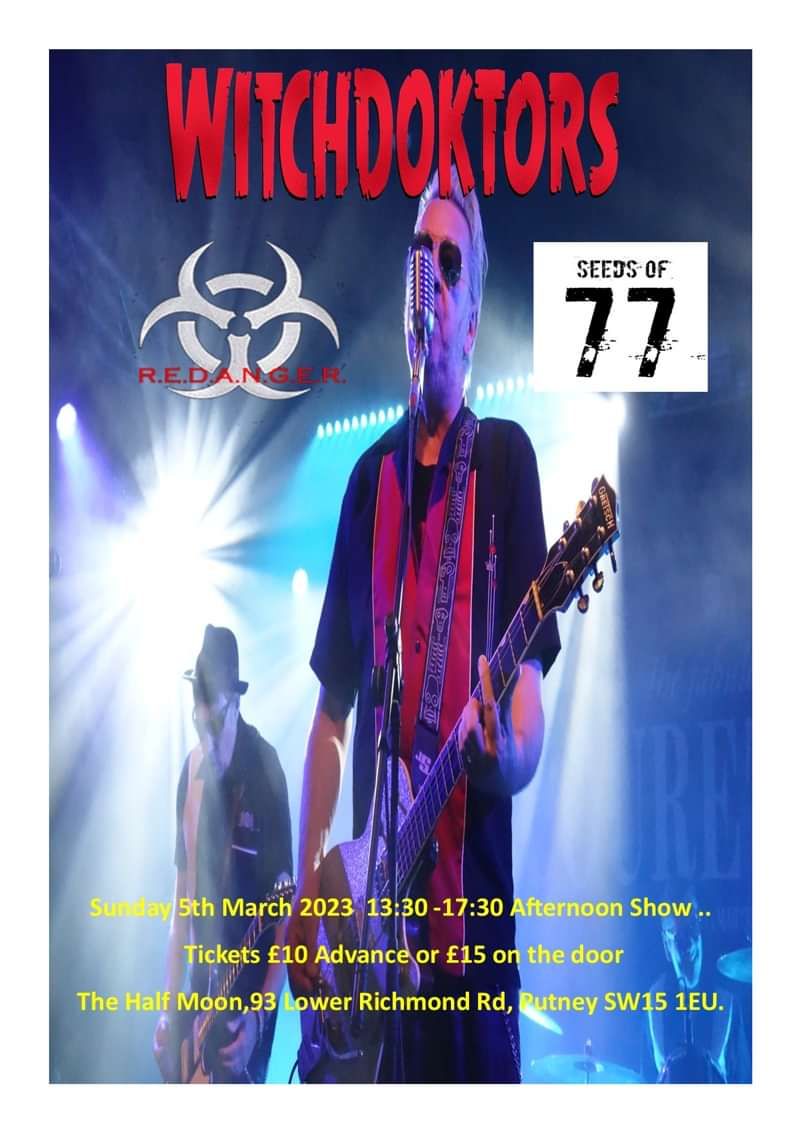 Half Moon presents:
A Sunday Surgery with: The Witchdoktors, Red Anger + Seeds of 77
The WitchDoktors + Red Anger + Seeds of 77
£10 Adv / £15 Door
Entry Requirements: 18+ after 7pm
Three quality South London/Surrey bands who have all played with some of the biggest hitters on the Punk/New Wave and rock scene.
Offering a cross section of musical genres from 70's punk, trashy rock & roll to post punk, all to shake up your Sunday afternoon.
More information on the bands can be found below by clicking the + signs next to each band name.
Line Up
Deep in the darkest vaults of South London, The WitchDoktors have been honing their SuperPunkRock sound and shows, drawing on their 70s punk upbringing (Ramones, Clash, Pistols, Damned etc) and adding a good ol' full measure of trashy rock'n'roll-a-billy, a dash of 60s Psyche-Out Garage, a bitter twist of cuntry and whizzing it all up with some godamming loud geetars our special brand of thunderous drums!
After 4 albums, a fistfull of singles plus hundreds of shows with like minded souls e.g. The Damned, The Revillos, The Fleshtones, Woggles, Phantom Surfers, The Saints, ? and the Mysterions, Man or Astroman?, Dogs D'Amour, Vince Ray and more recently The Polecats, The Germs, Macavity's Cat, they're fired up on high octane again and are out there gigging to promote their new album $3 Hooker (distribution to retail stores by those nice people at www.fortedistribution.co.uk).
'$3 Hooker' is also available for download NOW from iTunes, e-music, Napster and Amazon along with their ' Greatest Hits(!) album Razor Cuts & Red Hot Needles. Go on, getcha 'pod' Doktored!
Wanna feel like The WitchDoktors? Then getchersome comic books, catch some horror flicks, drink a bar dry, sling on some inkwork, fire up the hotrod and thank your lucky stars that you can relax in the safety of your own paranoia - You KNOW it makes sense!
Red Anger:
South London and Surrey based band Red Anger. Formed in the lockdown of 2020. They have now released their debut album and a limited edition Vinyl single, both well received. They have also already created a huge interest and followers with several gigs firmly under their belt. Expect a new Album and some great gigs in 2023 !
www.redanger.co.uk https://www.facebook.com/Red-Anger-114290940364928
Originally formed as the brainchild of the much loved and sadly missed Finn Panton, Seeds of 77 have raided the wardrobe of modern rock history, redesigning and reinterpreting the music they've always loved and giving it a contemporary post-millennial spin. Arriving dressed up, messed up and draped in a range of influences from 60s psychedelia and garage punk through glam, blues and the 70s UK Punk Rock Explosion, SO77 create a heady melange of old-school energy and new ideas fused in a mutant, highly contagious strain of Rock 'n' Roll that's old enough to know better and young enough not to care.