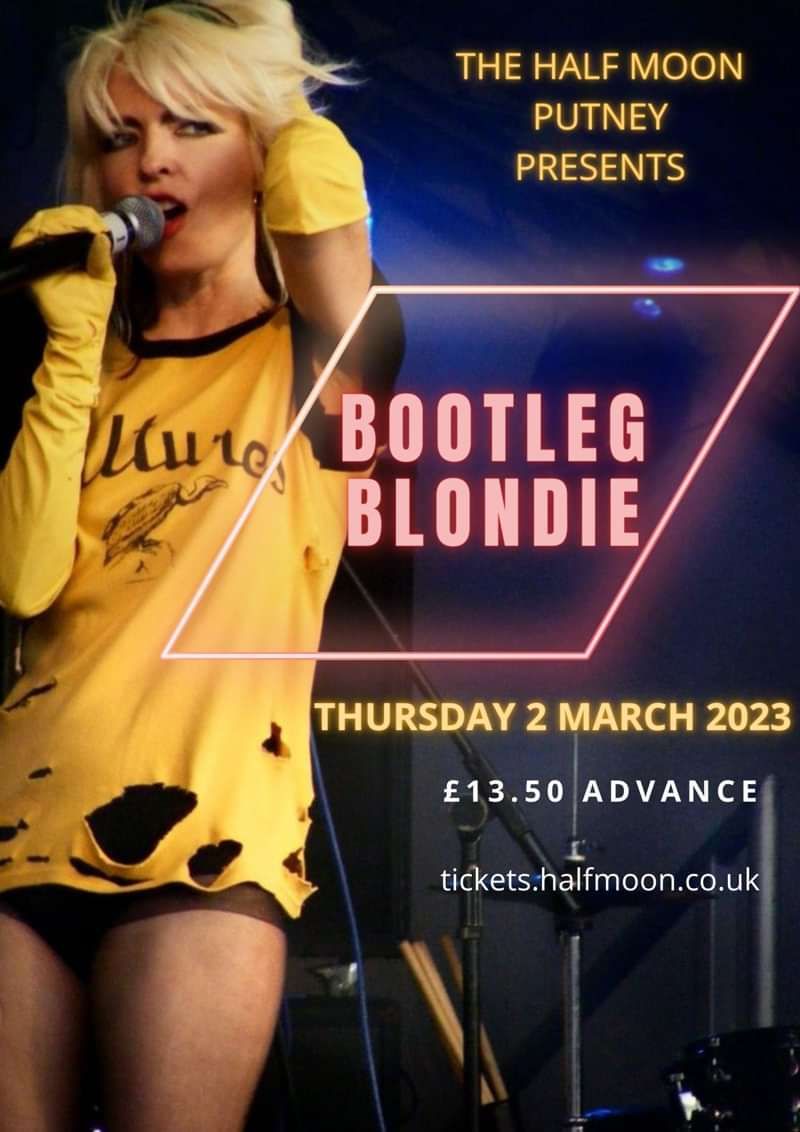 Half Moon presents:
Bootleg Blondie
Bootleg Blondie
£13.50 Adv / £15 Door
Entry Requirements: 18+ after 7pm
BOOTLEG BLONDIE is the world's No.1 official Debbie Harry & Blondie tribute band.
Established in 2001, the only Blondie tribute to play the legendary CBGB in New York City and unique in that not only have they had the honour to be thanked on Blondie's 11th studio album 'Pollinator', but also toured the UK in 2019 with one of Blondie's founding members and legendary drummer, their good friend Clem Burke, to celebrate 40 years since the release of Blondie's iconic album Parallel Lines! In an interview Andy described Clem as the coolest older brother you could ever want.
Both tours were a whirlwind of sell out shows, radio, press interviews and fab reviews, they drove nearly 5,000 miles and played to over 7,000 people!
On a day off during the first CBBB tour, Andy and Clem wrote a song. They went into a studio in south London and recorded the track 'Enigma Soho Au Go Go'. Debbie put down some vocals and the single was released in April of this year both online and on vinyl by Pop-Up Music. Awesome!
Line Up
BOOTLEG BLONDIE is the official Debbie Harry & Blondie tribute band and the only Blondie tribute to play the legendary CBGBs in New York City before its demise in 2006. CBGB was the Holy Grail of American Punk and New Wave, where the real Blondie first kicked off their career.
Debbie Harris and Bootleg Blondie have played the Isle Of Wight Festival, the 100 Club, the Hammersmith Palais and the Electric Ballroom in London, Eric's in Liverpool and have opened up for amongst others The Undertones, Slade, Bad Manners, The Beat, Heaven 17, Toyah, Hazel O'Connor, Visage, Bananarama, Altered Images, Howard Jones, Chas and Dave, Tony Hadley and can be seen at all the major venues and festivals around the UK and Europe.
Debbie Harris and the boys have met the REAL Blondie and are officially endorsed by the band. Debbie Harry got in touch in 2006 when she heard we were playing CBGBs in New York City to wish us good luck with our show and when Clem Burke, Blondie's charismatic drummer, found out that we were making a replica of his Premier drum kit, he arranged for us to meet him to sign our drum kit which we use at all our shows. 'During the 2010 Blondie tour of the UK we took Clem out for a trip around London in our tour bus, he signed that too!!!!'
In 2014 Clem invited Debbie and Andy to a recording session at the Foo Fighters' famous 606 Studio in Los Angeles, where they saw Clem and the awesome Neve mixing desk in action!
Debbie and Andy got married in March 2016 and to their great delight received two video messages from both Blondie and Debbie Harry herself congratulating them on their wedding day. What a wedding present!
And probably the best Xmas present in the world ever was in 2016 when Clem Burke came along to a Bootleg Blondie gig and actually got up and played drums on stage with the band! He said afterwards that watching and playing with Bootleg Blondie was very emotional. Well Bootleg Blondie were very touched by Clem's presence!!! Check out the short video clip on our Video page. In May 2017 Bootleg Blondie had the unbelievable honour of being mentioned on Blondie's 11th studio album 'Pollinator'.
Debbie Harris, lead vocalist of Bootleg Blondie, has the looks, the voice and the attitude of the original Blondie bombshell and like her heroine is typically outrageous on stage. She has been known to wear dustbin liners, thigh length boots and t-shirts with more holes than t-shirt! Debbie's pride & joy is her guitar that she plays at every show and is signed by all the Blondie members.
Debbie Harris is the niece of the celebrated singer and actress Shani Wallis who played Nancy in Lionel Bart's musical film 'Oliver'!