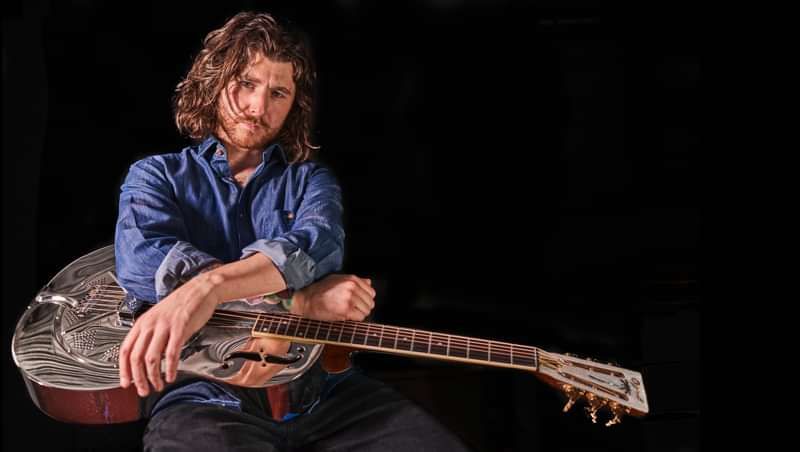 Half Moon presents:
Dom Martin
Dom Martin + Alice Armstrong
£13 Adv / £15 Door
Entry Requirements: 18+ after 7pm
Multi Award Winning Dom Martin brings his "A Savage Life" Tour to The Half Moon Putney on Tuesday 25th October 2022 with special guest Alice Armstrong.
Dom Martin is a Belfast born artist, inspired but not constrained by the blues. His main musical influences are Rory Gallagher, Roy Buchanan, Tom Waits, John Martyn, Jimi Hendrix, Bob Dylan, Howlin' Wolf and Muddy Waters.
With five BBC Radio live sessions prior to a first album release, Dom impressed with his 2018 debut original EP "Easy Way Out" with BBC presenter Cerys Matthews describing his work as "absolutely wonderful stuff."
His debut album "Spain to Italy" was released in December 2019 to critical acclaim.
bluespowr.com (USA)- 'Spain to Italy is not just one of the best debut releases we've heard in some time but among the best albums we've heard from any artist this year'
Makingascene.org (USA)- 'The likes of Dom's talent only comes around once in a lifetime'
Fatea Records - 'A musician of unbridled talent and a future that is assured'
After his debut sell out "Spring '19 UK Tour", Blues in Britain Magazine said - "Now and again you stumble across a rare talent of such sheer genius that you actually wonder whether what you have witnessed can possibly be for real. Dom Martin is one such talent"
"A Savage Life" Dom's second studio album was released in April 2022.
"One spin of this new set and it's obvious that Dom Martin is the next rising star in the global roots scene. Jump aboard now before he passes you by." – Rock and Blues Muse
"A Savage Life" is a genuinely sensational piece of work. The way it veers from one thing to another is astonishing." – 9/10, Maximum Volume Music
"The sheer intensity and burning power of the music in this album is almost shocking. His music leaps out at you from the speakers with claws bared and fangs dripping with venom." – 5/5 Music News
"Ireland has produced many fine artists in the world of blues. Legends like Rory Gallagher, and Gary Moore spring to mind. Dom Martin is the latest exponent who impresses his fans with legendary live gigs." – Making A Scene
"A stunning, evocative, passionate, stylistic and a highly personal release." – Blues Matters
"With a certain glib inevitability, Dom Martin has been billed as the new Rory Gallagher. Let's not. The Belfast guitarist is a sprawling talent who deserves investigation on his own merits." – 9/10 Classic Rock
AWARDS: Instrumentalist of The Year 2022 UK Blues Awards Acoustic Blues Act of The Year 2022 UK Blues Awards Acoustic Blues Act of The Year 2021 UK Blues Awards Acoustic Blues Act of The Year 2020 UK Blues Awards Best Solo/Acoustic Act - European Blues Awards 2019
Support is: Alice Armstrong (https://www.alicearmstrongmusic.co.uk/)
Line Up
Dom Martin is a 29 year old award winning singer/songwriter from Belfast Northern Ireland influenced but not constrained by the Blues.
Dom Martin recently dropped his debut album 'Spain To Italy' to critical acclaim and what a 'debut' year it's been for the Belfast resident. A year that has seen him gain a European Blues Award, ongoing National BBC Radio 2/6 music support from Cerys Matthews with substantial BBC regional support from all over the UK and a top 4 placement in the IBBA, Independent Blues 'most played artist' charts. Dom has also enjoyed 2 highly successful UK tours, important Festival appearances with forays into mainland Europe with 5 shows in Moscow, included.
The headlines: Best Solo/Acoustic Act - European Blues Awards 2019 Irish Blues Challenge Finalist 2019 2 very successful UK Tours 2019
Main Stage Big Top Performer at Rory Gallagher International Festival Ballyshannon ROI Great British Rhythm and Blues Festival Colne UK Harvest Time Festival Monaghan Main Stage ROI Canterbury Festival and many other UK/Irish festival appearances International appearances in 2019 include Russia and Switzerland BBC Radio 2 Blues Show, BBC Radio Ulster, Lancashire, Suffolk & Bristol live session artist Several important 2020 bookings already including London Blues Festival 'Under The Bridge' and '100 Club' with AGMP Promotions and many repeat major bookings from 2019
For more information - www.dommart.in
VIDEOS HERE -
Mercy - https://youtu.be/XCkRlrbH5Qk
Easy Way Out - https://youtu.be/RektgUGM5LY
Compilation - https://youtu.be/y0pz6X8mSuM
To Book Dom Martin please either email fenton@redpepperpromotions.uk or call +44 7578 565899
Critical acclaim for Dom Martin -
BBC Radio 2 Blues Show Presenter Cerys Matthews – 'Absolutely wonderful stuff'
Blues in Britain Magazine - 'Now and again you stumble across a rare talent of such sheer genius that you actually wonder whether what you have witnessed can possibly be for real. Dom Martin is one such talent' / 'Here is a guy who doesn't even have a rig…the magic is made between him and the guitar and the result is astonishing' / 'Remember his name…Dom Martin…. at a stadium near you soon.'
bluespowr.com - 'Spain to Italy is not just one of the best debut releases we've heard in some time but among the best albums we've heard from any artist this year'
makingascene.org - 'The likes of Dom's talent only comes around once in a lifetime'
Fatea Records - 'A musician of unbridled talent and a future that is assured'