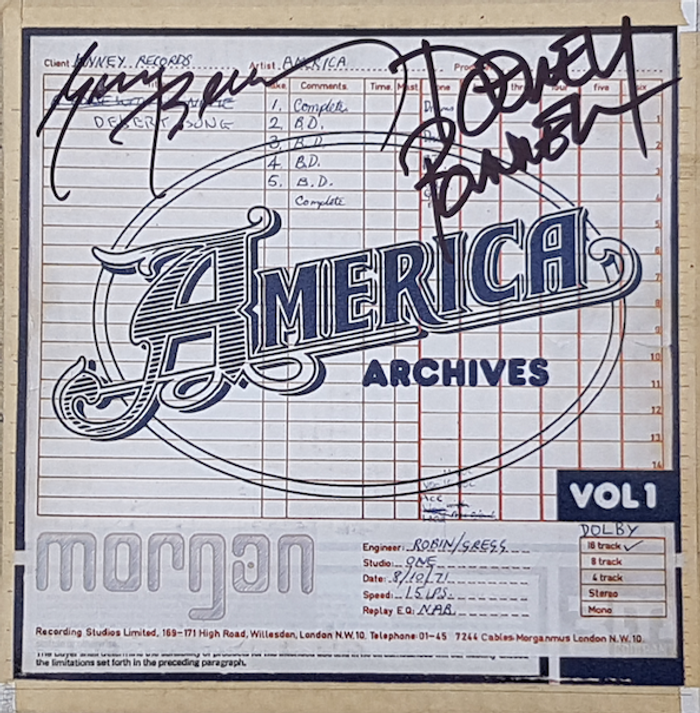 Signed - Archives Vol. 1 CD
America Archives Vol. 1 consists of early recordings, demos, rehearsals spanning 1970-1975.
After nearly half a century in the business, the band have amassed a significant archive of material, including many gems which have hitherto been unreleased. With this record, they grant us a rare peek behind the scenes, as it were, of this remarkable trio.
Tracklist:
Ventura Highway (Alternate Mix - The Record Plant, Los Angeles, Ca, 1972) Daisy Jane (Rehearsal – the Record Plant, Sausalito, Ca 1975) It's Life (Alternate Mix - The Record Plant, Los Angeles, Ca, 1973) Rainbow Song (Demo - Buzz Studios, King's Road, Los Angeles, Ca, 1973) I Need You (Alternate Mix - Trident Studios, London, 1971) Horse With No Name (Alternate Early Mix - Morgan Studios, London, 1971) Sister Golden Hair (Demo – Buzz Studios, King's Road, Los Angeles, Ca, 1973) Woman Tonight (Rehearsal - The Record Plant, Sausalito, Ca, 1975) Rainy Day (Alternate Mix - Chalk Farm Studios, 1971) Only in Your Heart (Demo – Buzz Studios, King's Road, Los Angeles, Ca, 1972) Cornwall Blank (Early Rehearsal - The Record Plant, Los Angeles, Ca, 1972) Look up, Look Down (Unreleased Demo - Buzz Studios, King's Road, Los Angeles, Ca, 1973) Green Monkey (Demo - Buzz Studios, King's Road, Los Angeles, Ca, 1973) Story of a Teenager (Rehearsal - The Record Plant, Sausalito, Ca, 1975) Riverside (Live in Studio - Chalk Farm Studios, 1971)