triple j, Elephant Traks, Umbrella Music and WME presents:
Urthboy - Crushing Hard Tour
Urthboy + Joyride + Alice Ivy
Buy Tickets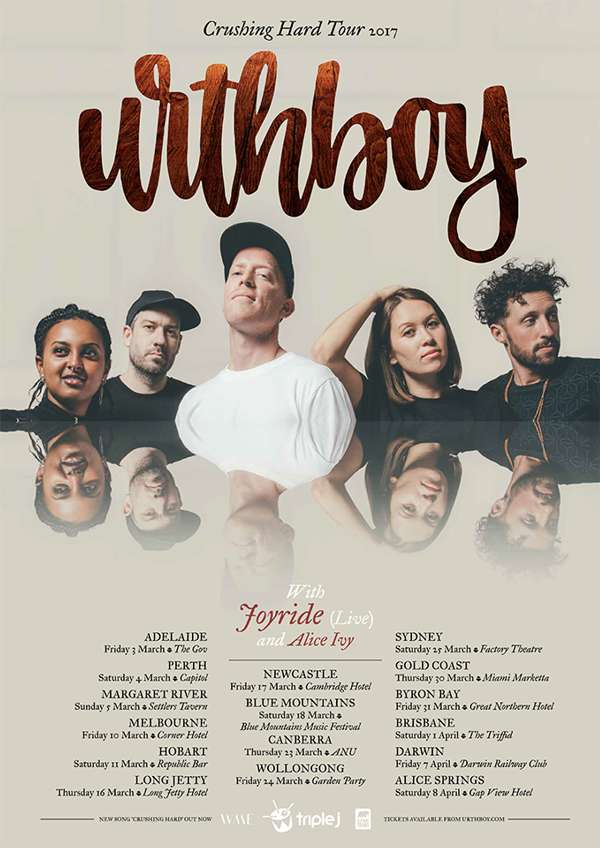 Urthboy is back with fresh new single 'Crushing Hard' and a huge tour announcement for March 2017.
2016 saw the release of his most successful album to date, The Past Beats Inside Me Like A Second Heartbeat, as well as a sold out national tour and spots on some of Australia's best festivals. With barely any pause to catch a breath, Urthboy delivers a completely unique single out of nowhere, the unexpected slow banger 'Crushing Hard'.
Written as a 'part two' of 'Wade In The Water', the closing song on his 2016 album, 'Crushing Hard' steps into new territory for the rapper:
_"It uses a lyric from that song and springboards into a completely different space in the same spectrum of love. If Wade in the Water is about an enduring love that is wonderfully imperfect and turbulent and real—Crushing Hard is about the impatient intensity that leads up to it. It's also about not having the emotional maturity to come out and simply tell the person you like that you have a crush on them." _
A notable element of 'Crushing Hard' is Urthboy's melodic singing in the first verse—a vulnerable performance illustrating an ongoing desire to break new ground, cementing his reputation as a songwriter with many hats. Production by Max Mostley (a German hip hop producer) accompanies the vocals subtly with its orchestral touches, accentuating the drama of heartache.
Urthboy will be taking the 'Crushing Hard Tour' around Australia in March/April 2017, with supports from the enigmatic Joyride (playing live) and multitalented Alice Ivy.
'Crushing Hard' is available digitally on December 7th through Elefant Traks / Inertia
Line Up
Urthboy (Tim Levinson) is an award-winning hip hop artist from Sydney, Australia, who has just dropped his fifth studio album, 'The Past Beats Inside Me Like A Second Heartbeat'.
Urthboy's first solo album Distant Sense of Random Menace was released in 2004, but it was 2007's The Signal that kicked things up a notch. The first single 'We Get Around' cracked the top 25 in triple j's hottest 100 while 'the signal' was hailed as "a classic" by Rolling Stone. It received two Air Award nominations; a J Award Nomination, and was shortlisted for the Australian Music Prize (AMP) before being licensed internationally through Motivo Records (among a select few hip hop records from Australia licensed overseas).
Celebrating the government's apology to the Stolen Generations in 2008, Urthboy worked with GetUp to re-imagine the song 'From Little Things Big Things Grow', at Paul Kelly's personal request. The song helped raise over $100,000 for Indigenous run health and education programs.
In 2009 Urthboy released his third solo album, Spitshine, to great acclaim and two hugely successful tours (2009 and 2010) playing to 20,000+ people. Urthboy was again shortlisted for the AMP, won best hip hop album at the Air awards and received an ARIA nomination. He embarked on an international tour, playing some of the biggest hip hop festivals in the world (Splash, Germany and Open-air Festival, Switzerland) as well as clubs shows in Germany, Denmark and England, as well as a string of dates around South East Asia.
Urthboy reunited with Hermitude and Count Bounce in 2012 to begin work on Smokey's Haunt, his fourth album, signing a global publishing deal with Alberts Music, the first hip hop artist to join their ranks. Reviews were unanimous in their praise, with The Australian giving it a perfect score, saying "absolutely captivating, play on repeat".
Smokey's Haunt was also nominated for a J Award for Australian Album of the Year and Rolling Stone Awards for Best Independent Release and Album of the Year. In early 2013 it was nominated for the AMP, Urthboy's third consecutive nomination - one of the select few artists to consistently get shortlisted.
Successful headline tours followed as well as appearances on Rockwiz and even Q and A, surprising many when asked to be the main support on Paul Kelly's extensive Spring & Fall Tour. He released Live At City Recital Hall from the same tour in late 2013.
In 2014, Urthboy developed a new concept show called 'Make Me A Mixtape' integrating story-telling and live performance with special guests. The show premiered to rave reviews at Brisbane Festival in September and was subsequently picked up by Melbourne Festival before making it back to Sydney in early November. Guests included Patience Hodgson (the grates), Thelma Plum, Sam Cromack (Ball Park Music), Ella Hooper and many more.
After a break and the birth of his daughter, Urthboy released his first official single* 'Long Loud Hours feat Bertie Blackman'* in 3 years to rave reviews. After only 2 short months on radio the single was voted in at #33 in the Triple J Hottest 100 and reached almost 1 millions streams across all platforms. The huge anticipation for his forthcoming album continued rolling, as he released 'Second Heartbeat feat. Sampa The Great and Okenyo', with huge promises of what is to come from his 5th solo album. Finally, on March 4th Urthboy released his new album 'The Past Beats Inside Me Like A Second Heartbeat' to rave reviews, including landing Feature Album on Triple J and 4 and 5 star reviews across Rolling Stone, The Guardian, The Australian, The Music, Brag and Beat Magazine.
"It looks like Urthboy has dropped one of the finest Aussie albums of the year" - BRAG 5/5 stars
"Cements a place among the greats" - ROLLING STONE 4/5 Stars
"No local rap act has maintained our attention so consistently for so long" - THE MUSIC 4.5/5 Stars
"Amen, brother" - THE AUSTRALIAN 4.5/5 Stars
"Few have the status, skill and eye for history like Tim Levinson" - THE GUARDIAN 4/5 Stars
View Profile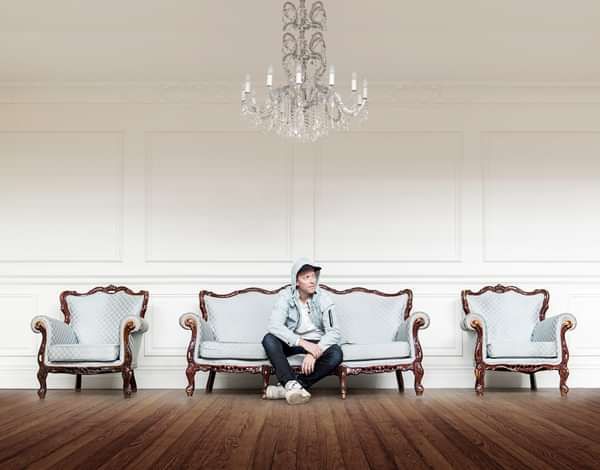 An imposing figure on and off stage, Joyride has quickly established himself as one of Australia's most diverse musical talents. He has spread himself across various genres, using his expansive skill-set to fit seamlessly into each.
Joyride's party DJing has seen him secure residencies at some of Sydney's most renowned parties all whilst headlining club nights around the country. Beyond that, he has left muddied dance floors for dead at Splendour In The Grass, Parklife, Field Day, Good Vibrations, Peats Ridge Festival and Secret Garden, leading him to now hosting FBi Radio's hip hop show, The Drop.
Saying that the big marn has an involvement in the Australian Hip Hop scene would be an understatement. As a part of theOne Day Crew, he has been Spit Syndicate's tour DJ for the past 6 years, as well as collaborating with Horrorshow and drinking heavily withJackie Onassis. Beyond the crew, he has also worked with Hermitude, Drapht, Urthboy, Illy, Purpose and many more, singing on and writing for some of the biggest songs of the past few years.
Outside of the hip hop world, Joyride is the bass player in Sydney gothic-folk (I know...) band Winter People, touring expansively with them since the start of 2012 as they did headline tours around Australia, shows in the USA as well as a run of dates supporting Gossling.
If that isn't enough, in December '12 Joyride collaborated with Sticky Fingers keys player Crabbz on Make It Reindeer; a Christmas record that was feverishly spread across the internet by artists far more famous than them (see: Bag Raiders, Hilltop Hoods) and remixed by Drapht, as he put his own touch on White Christmas.
He describes himself as a "social media mogul and an enthusiastic amateur athlete who was once in a round with Kirk Pengilly and Wayne Carey- the only time I've ever drunk Vodka Sunrises".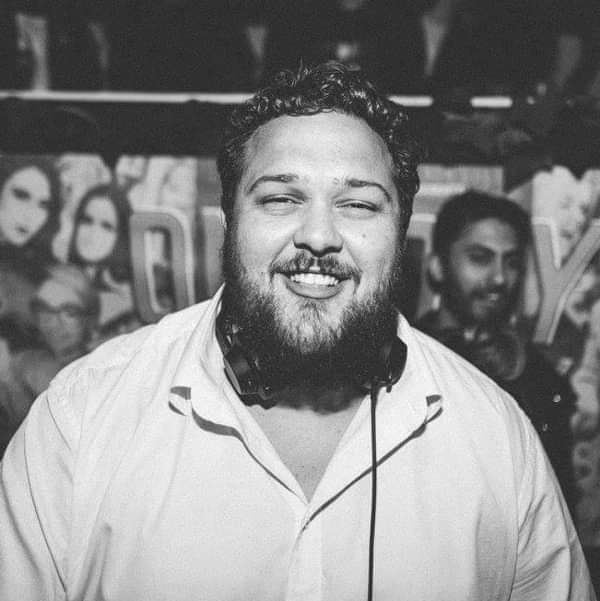 Raised on the Victorian surf coast, the daughter of German migrants, Annika Schmarsel aka Alice Ivy, recalls a childhood coloured by extensive travel in a vibrant and multilingual household. Her first foray into music, an ill-fated tryst with the clarinet, was swapped for guitar before Annika began beat-making inspired by the likes of The Avalanches, J Dilla and Bonobo.
As member of all-female soul outfit Sweethearts, in her late teens Annika twice toured Europe performing at the Poretta Soul Festival, Italy and Montreux Jazz Festival, Switzerland alongside luminaries of the genre ranging Al Green through Mark Ronson.
In the mere twelve months since founding electro-soul project Alice Ivy, she's released a trio of singles, earned support slots for Banoffee and Remi and completed a UK and European tour.