Punk Rock For Gentlemen - CD Album Review by Shindig! - Henry Hutton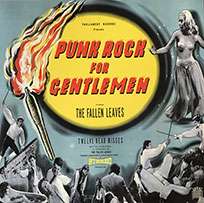 It's almost impossible to listen to The Fallen Leaves without imagining them belting out these tunes in some dungeon of a venue where the sweat from the audience leaches cheap distemper from uneven walls.
Gritty, loud and wild Rob Symmons' incendiary guitar clangs like a kick-off in a tin can factory whilst singer Rob Green achieves the almost impossible task of delivering first generation Pebbles punk without the affectation of a whiney mid-Atlantic drawl.
Rumbling bass and pin-point drumming from rhythm section Matthew Karas and Brett "Buddy" Ascott perfectly underscore the stuttering Morse Code guitar solos that pepper these frantic tunes. Meanwhile, sharp lyrics quote from Aleister Crowley and thoughtful paeans evoke love lost to political dogma and Veronica Lake-style femme fatales.
Subtitled "Twelve Near Misses", this collection features songs from the band's first vinyl single, EP and first three LPs. Mutant punk/R&B for today's dicerning grandee.