If only we'd known - Album Review - Louder Than War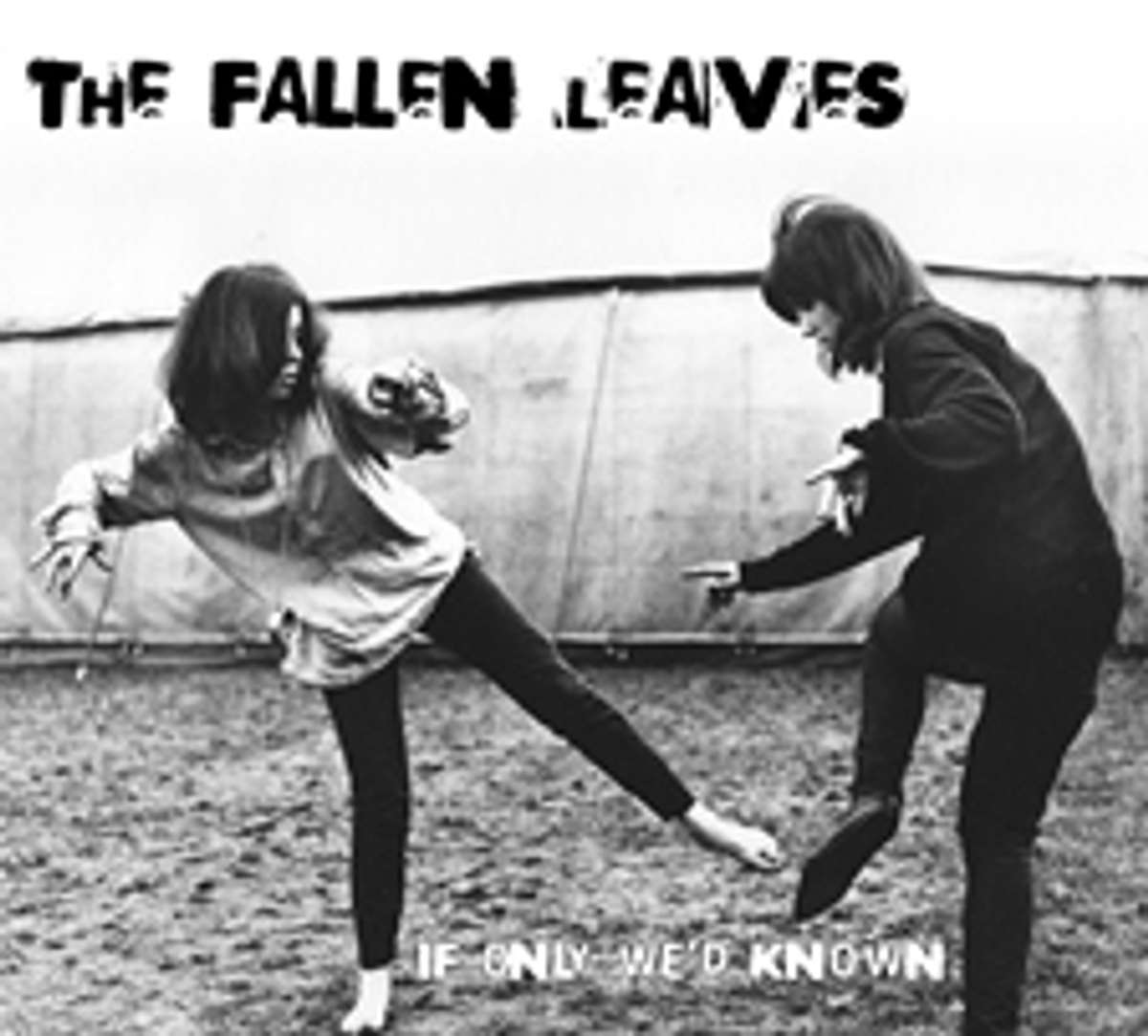 Third album by those Literate Dandies & 1st Gentlemen of Garage Rock, the Fallen Leaves, assessed by Ged Babey Esq.
Punk Rock For Gentlemen. It says on their ubiquitous facebook page, which one assumes their butler maintains for them. Maybe it should say "Punk Rock Made by Gentlemen for Gentlefolk" as it seems to exclude the fairer sex, but no matter…
The Fallen Leaves have been the best-kept secret in Rock'n'Roll for nearly a decade now. The band are centered around Rob Green, vocals, tambourine and thermos flask and Rob Symmons (guitar) from the original Classic 1977 line-up of Subway Sect.
Named after a novel published in 1879 by Wilkie Collins, a contemporary of Dickens, The 'Fallen Leaves' of the title are 'The people who have drawn blanks in the lottery of life…the friendless and the lonely, the wounded and the lost'. A beautiful choice of name, full of melancholic gravitas and a literary allusion to times passed, regret, misfortune and pain.
The bands music though on the whole is a joyful celebration of the simple pleasures of basic rock'n'roll in the style of a 1967 Beat Combo (with a tip of the hat to the 1977 Subway Sect). There is some wistfulness and yearning, and there will be crooning but it's a garage sound made by effete dandies rather than ruffians. It's as if Stuckist Billy Childish was born with a silver spoon in its mouth…maybe.
Rob Symmons, the coolest but most unlucky man in punk rock was sacked from Subway Sect by Vic Godard under orders from Bernie Rhodes (y'know, don't argue) and became the John Le Mesurier of Punk ; a charming man with a gentle demeanour and slightly distracted air about him….except when he's playing guitar. The same as Le Mesurier, he seems to be "a figure of delicate gentility" and as the actor described his roles, "a decent chap, all at sea in a chaotic world not of his own making". Symmons holds his guitar higher up than as is usual when playing it, a posture copied by members of Orange Juice and sadly Haircut 100. Johnny Marr recently called Symmons (as part of Subway Sect) the epitome of cool. Well, despite hair of a distinguished silver, he has never lost it.
Vocalist Rob Green has a scholarly disposition and is too, charm personified. This, despite from a certain angle and in some photos resembling the Psycho actor Anthony Perkins. His voice is an effortless croon with an occaisonal idiosyncratic sa-sa-sa-singing stutter. When they play live, during instrumental sections in songs he pours himself a sweet tea from an ever-present thermos flask, and sips it whilst surveying the audience. A move which equals Johnny Thunders combing his hair mid-song in my lexicon of great moments in rock'n'roll performance.
Matthew Karas the bassist, is refered to as His Royal Highness on the bands website and has an enigmatic regal air about him and for some reason reminds me of humourist David Mitchell.
I lose track of who the latest drummer is. They carelessly misplace them on a bi-annual basis, the original one being a Mr Paul Cook who's name rings a bell….
This album is a slight progression from 2009's That's Right, which was in turn, a step-forward from 2007's It's Too Late Now. All three albums though are immediate and thoroughly distinctively works; beautifully packaged and each containing ten songs and clocking in at thirty-three minutes. There's no mess, no waste, no filler, all killer. No lapses or indulgences just top quality one-take rock'n'roll or Beat Pop or punk rock. For once the Sixties influence comes not from the over-rated Beatles but the Troggs, the Pretty Things and the Who and all manner of obscure acts circa 1967.
The first two songs on this new platter are among the best the band have ever recorded and on a par with the Subway Sect singles in my estimation.
Against the Grain incorporates Symmons guitar at its trebly frantically tuneful best and takes its title from Huysmans A Rebours.
Always More pays homage to the Buzzcocks Boredom with added Beach Boys harmonies and lyrics quoting Aleister Crowley.
Ancient & Modern has a '77 Talking Heads bassline and is named after a hymnbook.
Girl in a Trance is pure Beat Group pop and a typical Fallen Leaves song in that, weirdly, it makes me think all of those naff pop bands from the Sixties; Gerry and the Pacemakers. Hermans Hermits and Freddy & the Dreamers, only cranked up to punk-rock-speed, yet retaining the melody and innocence.
I Made a Mistake recalls a late 60's thriller theme tune a la Roy Budds Get Carter (which the Flaming Stars covered, fans of Max Decharnes mob will love the Fallen Leaves incidentally if they've not yet discovered them).
Maybe That's It has a kind of Louie Louie feel to it and contains a telling line "She had long hair, that the illness took…" which can only refer to chemotherapy and is a terrible slice of real-life tragedy entering the bands songs. The song that follows, I Can Make Your Hair Grow with its mentions of St Tropez, diamonds and "an edit suite off Wardour Street" is back to the fantasy world the band inhabit.
Passing By recalls the Leaves first single Trouble and ups the pace, Symmons guitar again on top form. A percussive single piano note hammers away and a harmonica howls.
You should not judge a book, they say, by its cover, nor an album, but the artwork on If Only We'd Known is cracking. It's a black and white photo entitled Girls Jiving, Richmond Jazz Festival 1962 by Roger Mayne At first glance it's hard to date; is it the 1960's or 1990's ?. There have always been Beat Girls that have had that perennially cool look. It's difficult to tell whether they are actually girls or long-haired boys in tight jeans and whether they are dancing or doing some kind of martial arts. Such a cool photo. Timeless. Classic. A perfect reflection and representation of the music contained in what is sure to be one of my favourite albums of the year.