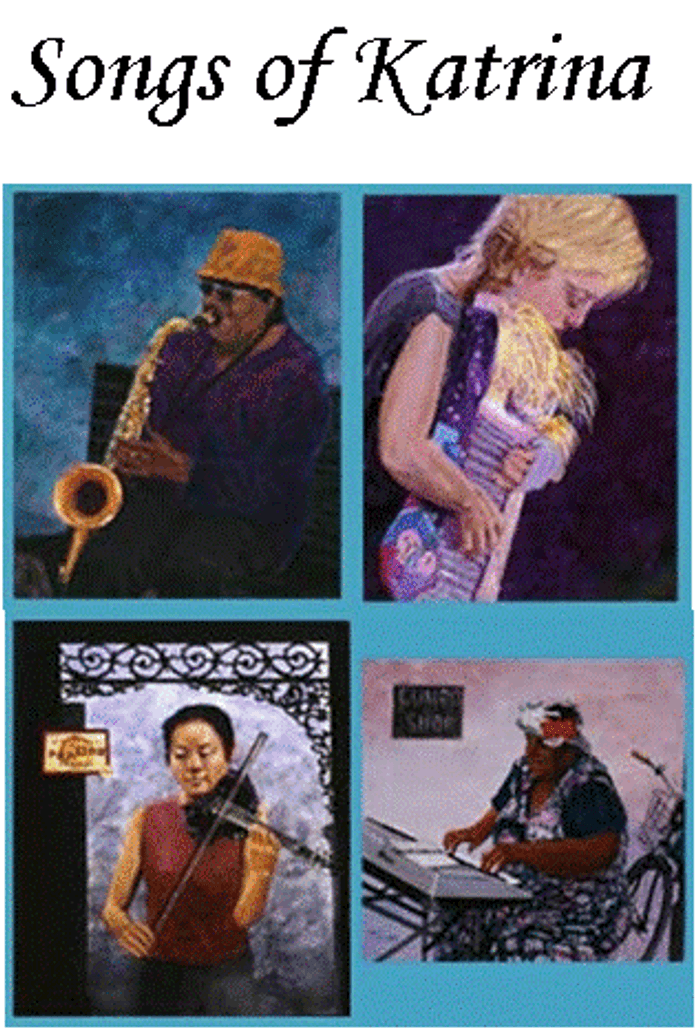 Songs of Katrina CD
From the musicians of Bristol to the people of New Orleans. A collection of songs about the tragedy that governments forgot
Welcome to the Songs of Katrina album. The Songs of Katrina project was devised by Bristol singer / songwriter Helen Ditchburn in response to the appalling devastation caused by Hurricane Katrina in August 2005. The hurricane and the subsequent flooding was bad enough. Over 1800 people died and at its peak million people were displaced. Though there have been bigger natural disasters Katrina holds a special significant. It is infamous as much for the politic fall out and criticism of government response and that of the insurance companies. It had wider publicity than comparable events because it happened in the US, a country that has been widely criticised for its lack of response to the issues of climate change and its environmental impact on the rest of the world.
The picture is both bigger and smaller. Our project focuses on the impact of this event on the musicians and the poor of New Orleans (often the same thing) because New Orleans is famed for its music and its carnival and its fun. It also steps back and considers the wider picture that these types of events are become more common, whether through human caused climate change or natural cycles. For every area devastated by a flood or hurricane many ordinary people and ordinary working musicians are affected. This project is about raising awareness and raising money for those affected by these events.
So Helen wrote a song about the disaster and asked her circle of friends and musicians in Bristol to write and record an album of songs on the same subject. Throw in a few covers that have connections with New Orleans or the flood and hurricane and you have Songs of Katrina. After many months of delays and set backs the album was released on the 4th anniversary of the start of the hurricane. To coincide with this some live dates were organised in Bristol and Brighton. and then in November of the same year we took the project to the heart of the start of the project, New Orleans itself, for a short promotional visit in November 2009 where Quentin Burton and Mark Stipanovsky presented at an international conference on Redecision Therapy to raise further funds and QJB played a short set of some of the songs from the album in the Hilton hotel at a Gala Dinner.
The images of New Orleans are the work of Theresa Jones and have been used with her kind permission to promote this work. To see more of her work please visit www.neworleansjazz.org.
If you'd like more information on the project contact us via Facebook page @songsofkatrina