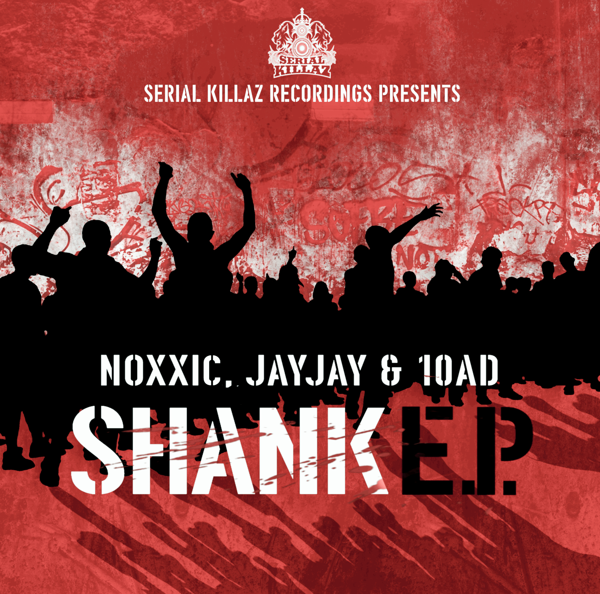 Noxxic x Jay Jay x 10AD - Shank EP
NOXXIC, 10AD and Jay Jay have already cracked open a bottle to celebrate their first release on Serial Killaz, knowing full well it's going to sail to the top of the charts. Brave talk right? Open up your ear and get your jaw swinging as this is full send, no nonsense jump up of the highest order. Don't believe us? You know where the door is..
'Shank' rips vocals straight from your favourite football hooligan movie although it's been said that it's actually Tobie from Serial Killaz having a conversation at the vinyl pressing plant. NOXXIC and 10AD slam in some early 00's bassline vibes alongside some proper militant beats. 'Gaslight' hits the scene just as energy prices shoot through the roof although forget all that bullshit for a second as 10AD & Jay Jay increase their bunsen burners to max levels and light up the dance floor to the point of incineration.
Headlining business in the form of 'Ride or Die' which you have no doubt heard all over the place in the last 6 months. It's unapologetic to the point of blatantly telling you to "fuck off" without having to even mention a single word. Imagine the scenes when this was being produced! Tea cups, keyboards and KFC boxes flying all over the gaff. Rowdy.
'Fire' is rough, tough and damn right dangerous so reach for the extinguisher before the dust settles. A T for tremendous effort in respect of production values with one hefty kick drum and a snare that slaps you right in the chops. The rework of 'Shank' by Jay Jay has a superb touch of atmosphere about it which switches up the drop no end, stripping things back and letting the lead bass take over proceedings. Two for two as they say.
Serious new era jump up.
Press Release: Dubplate Creative