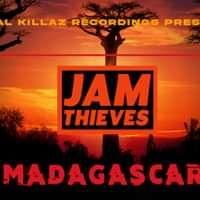 Serial Killaz Recordings have returned with the latest release from Jam Thieves dubbed Madagascar EP! Hailing from Brazil, Jam Thieves has firmly captured the attention of Drum and Bass fans far and wide as a result of punchy, memorable productions that continually showcasing a firm talent for making music.
Having been inspired by the work of fellow DnB DJs and producers at the time, Jam Thieves set out to convert his deep passion into his own material. Across an exceptional career so far, Jam Thieves has gained support from the likes of Hospital Records, Souped Up and Ram Records, to name a few. Now, returning with more new music to Serial Killaz Recordings, the dynamic production artist hopes to further demonstrate why Jam Thieves is a name worth remembering.
Comprising of 5 carefully crafted tracks, Madagascar EP, set to drop on 26th May 2023 showcases a signature essence of inspired DnB creations. Brimming with scintillating basslines and intricate drum patterns, the much-anticipated body of work is equipped to capture its listener from the opening track.
The EP is undoubtedly a must-listen project for Drum and Bass fans, and it is certain to cement Jam Thieves as a thriving act upon the circuit.
Madagascar EP will be available on full release from 26th May 2023.
Words: shanselenawrites@outlook.com Artwork: stevejwright14@gmail.com
Links:
Apple: https://music.apple.com/us/album/madagascar-ep/1682519280?ls=1&app=itunes
Beatport: https://www.beatport.com/release/madagascar-ep/4094886
Spotify: https://open.spotify.com/album/4Z2rSPAHpZcwgRCpTCmB55