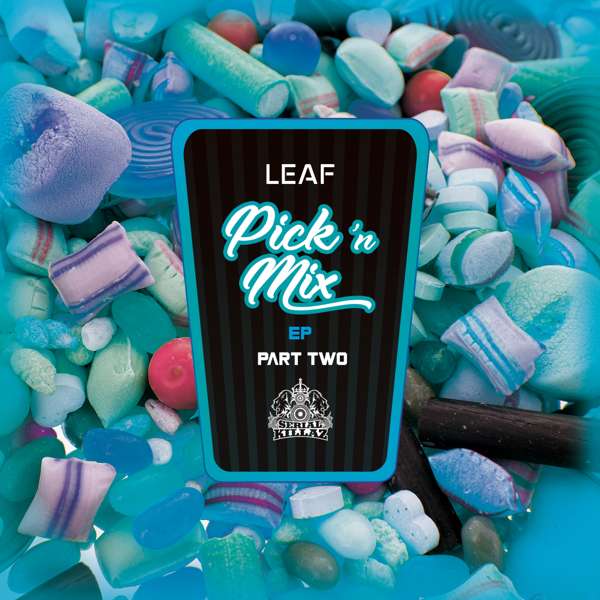 Leaf - Pick n Mix EP (Part 2)
It's as if Leaf never left the Serial Killaz convenience store as he's back with the second part in the Pick 'n' Mix series quicker than you can devour a tub of strawberry squashy lips!
Straight in with the reggae infused vibes, 'Jah' is a sound system man's dream with growling, ferocious bass stabs which would lick down any of the competition. It's also perfect for the summer festival season and mucky swamp dancing - basically one and the same.
Swapping the £2 cup for the extra large £5 business comes in the form of 'Riddim'. Spooky pads and lick shots provide the perfect platform for that ever effective Leaf bass to wrap itself around your ears and coax you into a state of frantic shaking and trainer shuffling.
Fans of that 4/4 steppy minimalist vibe will adore 'Get Down' with it's cheeky one two flavour and bouncing bass. If you're a DJ it will no doubt grace a set or two and if you're an MC .. even better as it's a perfect slab of lyric friendly vibes. Either way, Leaf has you covered.
'Tosh' takes a ton of influence from one of the originators of the reggae scene and certainly pays respect in a fitting way. Hitting that distort button firmly in the middle, this one has fuzzy overtones aplenty and enough wallop to knock over a fully geared up riot squad.
Finishing the second part of the EP off with 'Inner Connected' Leaf shows his versatility with a downtempo, smokers riddim that totally changes direction. Keeping within the Serial Killaz footprint but switching that pick 'n' mix cup on it's head, down the road, across the pond and into a tower block a couple of miles away.
Another big and bashy release from Leaf that once again, fits neatly into the sound that is totally reminiscent of nothing but Serial Killaz.
Format: WAV
Title: Pick n Mix EP (Part 2)
Artist: Leaf
Label: Serial Killaz Recordings
Catalogue: KILLAZ035DIGPT2
Release Date: 15th September 2017
Press release: Jamie S23
Tracklist:
Jah
Riddim
Get Down
Tosh
Inner Connected