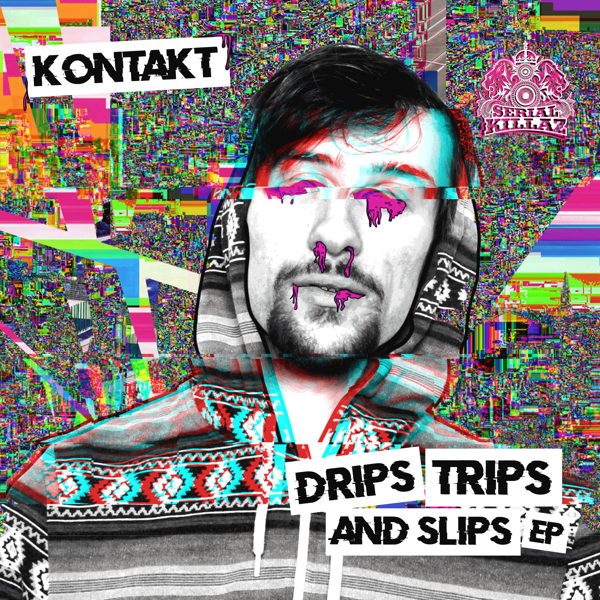 Kontakt - Drips, Trips & Slips EP
Something about the name of this EP from Kontakt leads you to believe that it's nothing short of mind bending music and if you're on the same wavelength as us, then you're probably right in your assumption. A brand new sound from the Serial Killaz label that's full of 'Drips, Trips and Slips'.
The lead track comes in the form of 'Disassemble'. A tune so focussed on pitch bends and grotty pads that playing it repeatedly for too long will no doubt turn the rest of your street into one foot skanking zombies.
'Planet 9' is surprisingly more upbeat and somewhat jolly with it's bright snares and kicks that probably symbolise the best part of your sonic trip. A perfect way to avoid any kind of comedown or morning after vibes. Someone pass the saxophone!
If you're a DJ, you already know that the graveyard shift can either be bloody amazing or a pain in the arse. Thankfully, on this occasion Kontakt provided enough vibes and atmosphere to keep whatever party you're at going. It's also been said that dropping 'Graveyard Shift' on your next livestream can boost the number of shares by 50%. 'Entropy' is a strange beast, combining elements of other tracks from the EP and making one hell of a mash up. Probably best combined with some hellish behaviour and a couple of Red Stripes.
Licking off the EP, Kontak joins forces with Vital Elements for 'Witness This'. A fine Serial Killaz staple that pays homage to the sound of the label and reminds fans why they came here in the first place. Something new combined with something old and boom.... It's a wrap.
Press Release: Dubplate Creative