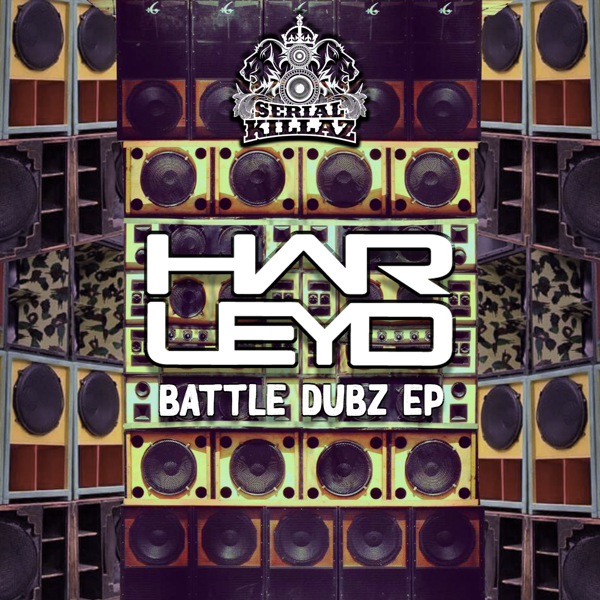 Harley D - Battle Dub EP
Harley D returns to Serial Killaz, fully prepared for all out war having spent the last 6 months putting together an arsenal of 'Battle Dubz' and the result is of course all out sonic devastation.
From the 80's synth driven title track, full of enthusiastic tear your face off vibes and 100 miles per hour rap battle lyrics to 'Your Love' and it's filtered out Amen breaks, hardcore style pitched up vocals and occasional hands in the air moments, this brand new EP has something for everyone. If you're thinking of going head to head in a sound clash, selection is no doubt key so forget your triple drops and anthem bashing. What you really need is a slice of 'Champion Sound' and its mysterious chords, gritty ragga vocals and a bassline taken straight from a ton of analogue gear. Fancy something a bit off the wall? Give 'Who's a Badman' a go, full of experimental breakbeats and flammable lyrics. Point your finger across the dance via the smoke and lazers and ask the question.
Fans of new school jump up will love 'Don't Do That', especially if you like your brain being melted with sublow frequencies. 'I Need It' mixes uptempo flair with female vox, creating a perfect opportunity for mixing up styles mid set so pattern up your USB and bring forth the big switch.
What you will notice about Hardley D's production is although he's still under 30 years of age, the roots of jungle music seem to run through his blood. There is no doubt that the Serial Killaz crew have put their knowledge and wisdom to good use signing this talented and versatile producer.
Press Release: Dubplate Creative