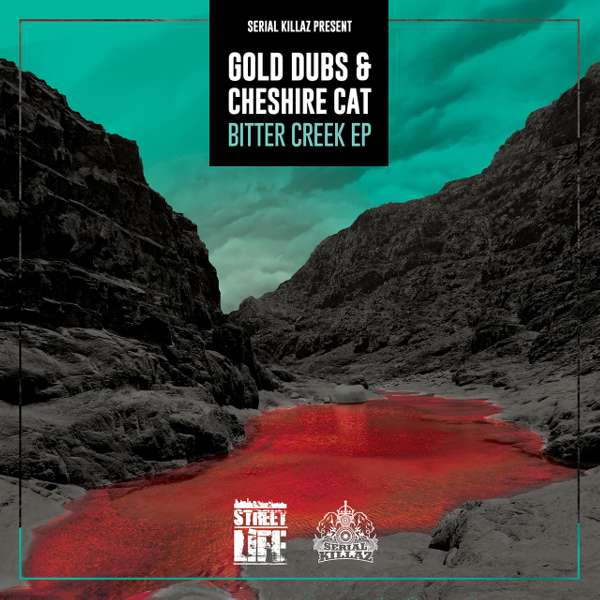 Gold Dubs ft. Chesire Cat - Bitter Creek EP
A brand new Streetlife release in the form of Gold Dubs & Cheshire Cat's 'Bitter Creek' EP is about to hit the virtual shelves. It's a massive mixture of heavyweight bass, moody vocals and destructive beats. Check it..
'Bad Boy Deya' proves that not everything has to be at 175 beats per minute with its mucky, cantankerous bassline that drones underneath Cheshire Cat's crisp vocals. Certainly one for all the bad boys inna dance skirting the corners and screwing up their face.
Doubling up the tempo in the form of 'Control' with bright and bashy beats, summertime vocals and continually stabbing bass notes that demand even the stiffest of person to shake a leg. Can you guess the name of that classic break used in this? One for the original hardcore crew.
Don the camo sticks with 'War Paint' as the smoke fills the room and bass drones fire off all over the place. Cheshire Cat comes into his own on this with vocals literally flooding the speaker box. Instant ammunition and a sure fire hit - danger!
Lickin' shots from the very top in the form of 'Raise The Banner', this high energy track is reminiscent of the vibes created by reggae sound system trucks and would certainly be at home at a clash. Drop this one in a battle and the claxon will sound in a second flat.
Concluding on 'Steppin', Cheshire Cat throws down some knowledge and wisdom combined with the lowest of bass which will no doubt force the speaker hugging brigade to the floor. Weighty in every sense and a fine way to end this EP.
Serial Killaz is quite possibly THE home of jungle, don't squat with the minority and don't watch face.
Format: WAV
Title: Bitter Creek EP
Artist: Gold Dubs Ft. Cheshire Cat
Label: Streetlife Recordings
Catalogue: STREETLIFE014DIG
Release Date: 28th July 2017
Press release: Jamie S23
Tracklist
Bad Boy Deya
Control
War Paint
Raise The Banner
Steppin'