War Machine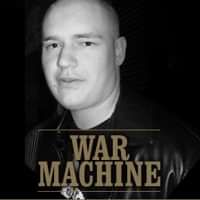 War Machine, one of the most recent new breed of producers to break through into the drum and bass scene, gaining the attention of the music press such as DNBA & friedmylittlebrain as one of the most distinguishable styled artists today.
His production style has lead to him recently signing with Med School, Serial Killaz and Scientia, as well as putting out material on his & Bomh's own  Violation Music imprint.
Whilst his tracks are structured with a 'less is more' approach, the attention to detail is key resulting in tracks delivering a precise message. As a result War Machine has gained support from across the globe including DJ's Hype, London Elektricity, Marcus Intalex, B.Traits, Stray, Etherwood, Doc Scott, Simon Bassline Smith, Basher, Maztek, Ulterior Motive, Loxy, Rene LaVice, June Miller, A-Sides, N-Type, Technimatics, Cern, Patife and many more.