Voltage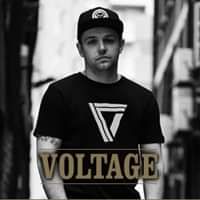 Undoubtedly one of the most exciting acts to have emerged in drum & bass in recent years, Voltage-is in huge demand as a DJ, producer and label owner. Make no mistakes: this exciting new producer is killing it on every single angle right now.
Renowned for his ability to select for any crowd in front of him, Voltage delivers vibes you've genuinely never experienced before. With high profile shows at major rave destinations such as One Nation, A.W.O.L, Warning & Sunbeatz, his tried and tested all-style blend of jungle, jump up and deep, demonstratively dark rollers suits any dancehall in any corner of the globe – large or small.
Premier league support for Voltage's productions from such a wide range of influential people from across the full spectrum of drum and bass include the likes of Andy C, Hype, Friction, Goldie, Bailey, Hazard, Bryan Gee, Total Science, Logan D, Heist, Ray Keith and more.
Voltage has a discography that reads as a who's who in D&B label land with releases on Viper, Radius, Smokin Riddims, Grid, Chronic and Co-lab, CIA, Innerground amongst the many.
Responsible for the production of the dancefloor anthem 'Hard Goin' which not only featured in most DJÌs sets around the globe for the most part of 2013 but also 2014, the track found itself onto none other than the mighty 'Nightlife 6' compilation from Ram Records.
Now in 2014, after a heavy stint of producing under 'Cabin Fever UK', Voltage has decided to concentrate his efforts into a solo career, his deeper rolling analogue sound see's the likes of C.I.A, Spearhead, Innerground and Sgn:ltd all step in to sign music for release this year.
With a track record for making big tunes for the jump up crowd as well, its no wonder the likes of Low Down Deep, Co Lab and Smokin Riddims are all releasing projects. With backing from the D&B community and full support right across the board, this heavyweight producer deserves every ounce of attention and praise he's getting right now.
Constantly topping charts, things look bright for Voltage! This is just the beginning!