Vital Elements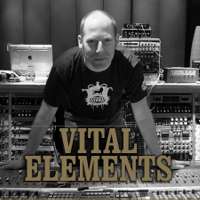 Vital Elements, one half of legendary jungle team Serial Killaz has been tearing up dancefloors for countless years, both in his DJ sets and by ways of production. A hugely positive figure within the underground scene and a go to producer for remixes, Vital has spent many hours in the studio creating hundreds of successful tracks.
Original signed to Formation Records in 2004 then moving to both Grid Recordings and Basement Records in 2006 whilst maintaining his own label V2E and Serial Killaz alongside DJ Terra, it's safe to say this is one extremely busy and well connected artist. As a duo, Serial Killaz have spent the past decade earning the reputation as jungle producers of choice reworking some of the most treasured tracks and giving them that signature Serial Killaz sound which has seen releases on heavyweight labels such as Congo Natty, Playaz, Philly Blunt and Urban Takeover.
Some of Vital Elements key partnerships include Rebel MC, General Levy, Congo Natty, Micky Finn and Top Cat. Remix wise, the credits are almost endless but include well known names such as Nas and Damian Marley, Krome & Time, Micky Finn & Aphrodite, Toddla T, Skream, Freestylers, EZ Rollers, Benny Page, Deekline & Ed Solo, Toddla T, Skream, Enter Shikari, Leviticus, Stevie Hyper D (RIP), Marvellous Cain, Tom & Jerry and many more. He's also spent time in the studio sharing his skills with other artists in the way of production tuition.
As a label owner, it's safe to say that Vital Elements is just as keen to promote new talent with a whole host of artists coming through via Serial Killaz. Leaf, DJ Hybrid, DJ Upgrade, T>I, Voltage, Cain.1, Jam Thieves and more all have the label to thank for the continued support and promotion.