New Release: Top Cat - Ruffest Gunnark (Remix EP)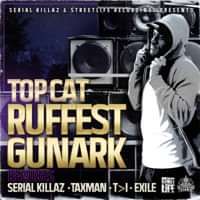 Serial Killaz, T>I, Taxman and Exile smash up the mixing desk with some brand new remixes of Top Cat's 'Ruffest Gunark', originally made famous by the likes of DJ Rap, Micky Finn and Kenny Ken way back in the glory days of jungle.
Authentic upfront jungle vibes a run with the Serial Killaz relick. Steppy breakbeat patterns and wonky bass come correct from the don T>I whilst Taxman reaches for his Telepathy roots with gritty Amen mash ups that have been through the washing machine 1,000 times. Exile brings his own unique take, mixing old and new vibes alike to create an absolute monster.
Sleep on this and you're sleeping on the whole scene.