New Release: StillZ - Crowd A People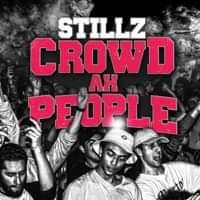 StillZ returns to Serial Killaz far quicker than a delivery of diesel at your local Shell. In fact, he's produced a top quality EP to follow his previous Serial Killaz release quicker than most producers reply to text messages. The 'Crowd of People' EP is a serious jump up onslaught of hard hitting beats and bass for your speakers so be ready!
Title track follows up where 'Hypnosis' left off, some crafty DJs might even enjoy making an audio jam sandwich of the pair, slapping them in the mix and switching in and out of them. It's an obvious rough and tough affair with snappy breaks and ear worm melodies, perfect for swinging your jaw along to. StillZ brings along Jay Jay for the ride with 'Nasty'. A concoction of early 2000's jump up vibes and skippy drums that will have you smiling from ear to ear which is a strange one considering the title of the track.
'On Road' was once a well known term to drop into every single conversation if you were an up and coming DJ or MC pre lockdown and as you may have guessed.. It's back in full effect with every single artist currently "back on road fam". No bad thing for sure and this absolute weapon of a tune will have every little man running away whilst filming it for Instagram live.
Catching a break, StillZ links up with Stoyley for the final track of the EP. 'Dat Ting' is a full on MC lead head nodder full of mashed up breaks that will have you nodding your head into 2022 and beyond. One for the speaker stack crew who enjoy being fully immersed in sound.
Press Release: Dubplate Creative