New Release: Leaf - Night Time Vultures EP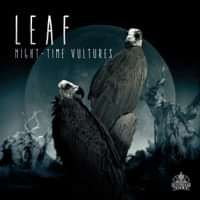 Leaf makes a welcome return to the Serial Killaz label with a 6 track monster from the depths of doom in the form of 'Night Time Vultures'. A true mix of atmospheric beats, darkside basslines and a huge slice of jump up vibes. No stranger to the label and with a host of previous releases, it's no wonder he's been welcomed back with open arms.
The growling menace that is 'Night Time Vultures' barks its angry bassline continuously in true Leaf fashion. Combine this with some clever use of vocal samples, chuck in some skippy hats and you have yourself a well created weapon of destruction.
'Dodgy Dealers' takes even more of a darkside stance than its predecessor with it's robotic, almost machine like structure. If anything created by Leaf was a trip into his mind, this one would probably be it.
Linking up with Too Greezey for 'Lower Down' which contains one of the roughest snare slaps known to man. It's drum programming really rolls this track along at a considerable pace and when you link in some of the other elements, it's one certified riddim of terror.
'Gangsta' features a certain well renowned Mad P sample that's cemented into the history books of jungle music. It's a clever refix (as such) that does well to represent its origins whilst creating something completely different. One for the lighter crew - go on, dig them out - that gas ain't expensive.
Coming to the end of the dancefloor vibes with 'Sidewobble' which, in some respects is pretty self explanatory. This track will no doubt hit the spot for the crew that love to ride that twisted bassline vibe. Short and snappy reversed low end that will take down even the biggest of sound systems.
Ending this wicked collection of tracks with 'Air', a relaxed trip into the unknown that shows Leaf's opposite side. One hell of a chilled out vibe that will appeal to the Sunday morning crew coming home on the motorway.
Upfront copies exclusively available on the Serial Killaz shop for one week before general release!
Format: WAV
Artist: Leaf
Title: Night Time Vultures EP
Label: Serial Killaz Recordings
Catalogue: KILLAZ046DIG
Release Date: 16th November 2018
Words: Jamie S23
LEAF ONLINE Twitter | Soundcloud | Facebook
SERIAL KILLAZ ONLINE
YouTube | Twitter | Soundcloud | Facebook
Press Contact: weare@ontherisemusic.com
LIKE THIS RELEASE? TWEET US: @Leafdnb @SerialKillaz & @OTRPromotions