New Release: Kontakt - Spartan EP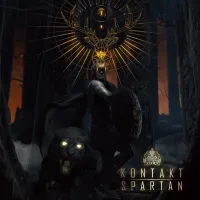 You already know how well supported Kontakt's 'Drips, Trips & Slips' EP was back in 2020, especially 'Planet 9' which racked up millions of streams in no time at all. You will be pleased to know that his latest offering 'Spartan' EP features one hell of a VIP of this smasher plus 3 other future classics.
'Start Barking' featuring Madrush MC is a moody, corner hugging slice of badness. Ideal for an intro tune, ideal for the double drop and no shadow of a doubt one for the bad boys inna dance. You love gun fingers in the air? We got you. Just avoid any unnecessary eye contract unless you want trouble.
Rider Shafique joins the main event for a VIP lick of 'Planet 9'. This is nothing short of exceptional music and really shows off the many talents of Kontakt and his impeccable production wizardry. Vocals run perfectly over renegade drum patterns and that all important damaging bassline.
'Broken By You' rips up the rulebook, flips the script and transforms the pattern of this Serial Killaz release no end. The festival style synth lead straight from hardware fills the room no matter the size, complemented by lead vocals and wonky breaks. Something refreshing but also complimentary. Two for two as they say.
'Tremor' signs off the EP, digging deep into the mind of Kontakt, slapping you round the chops and spitting on the trainers. It's a level of musical disrespect you're not ready for.
You want more of this? Course you bloody do, it's top rate drum & bass from the most credible label in the scene.
Press: Dubplate Creative