New Release: DJ Vapour - Kingston Jungle EP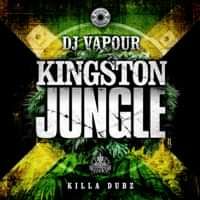 DJ Vapour continues to steamroll his jungle train across the globe in an attempt to educate the masses as to what REAL jungle should sound like. The 'Kingston Jungle' EP is nothing short of a flagship for this conquest and what better home than Serial Killaz' sister label Killa Dubz, with it's 100% dedication to the foundation of the Jungle sound.
From the rough and ready breakbeats of 'Damage Your Sound' to the rhythmic flow of 'Back To Skool', it's clear this EP was a labour of love for Vapour. It's about an authentic as you're going to get in 2018 and bearing in mind the true jungle sound is about 25 years old now so both times and equipment have changed dramatically.
'B Boy Style' features a great selection of vocal and riff samples that would have really been at home on a Jungle Mania compilation, it's slick production and arrangement shines heads and shoulders above any imitation jungle tat that's been doing the rounds. Fans of mashed up to the point of unrecognition Amen breaks will probably love 'The Devil's Lettuce'. It's unapologetic rave influenced stabs lick the walls of every grimy basement across London and stick to it like a ton of trodden in chewing gum.
An impressive selection of tracks from one of jungles veteran producers who sadly sometimes goes a bit too far under the radar. Underrated and probably underappreciated, Vapour is relentless in his quest for authenticity - and why not?
Upfront copies exclusively available on the Serial Killaz shop for one week before general release!
Format: WAV Label: Killa Dubz Title: Kingston Jungle EP Catalogue: KILLADUBZ009DIG Artist: DJ Vapour Words: Jamie S23 Release Date: 2nd November 2018
SERIAL KILLAZ ONLINE
YouTube | Twitter | Soundcloud | Facebook