New Release: DJ Hydrid - Puff Puff Pass EP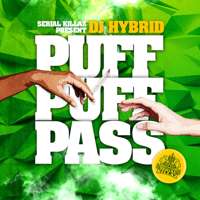 Sharing his extensive knowledge of upfront jungle production, DJ Hybrid falls back into the Serial Killaz camp with a fully blazed selection in the form of "Puff Puff Pass". A street tough onslaught of authentic jungle breaks combined with familiar basslines and snappy vocal samples that will no doubt have you calling for the gas canister and a lighter.
Skippy breakbeats and reggae infused vocals set the pace well in the form of the EPs title track and although the tempo is somewhat more relaxed than you may be used to, it's certainly one for the head nodders, party starters and bassbin huggers.
Intros are most certainly back for 2018 and "Ready to Rumble" doesn't disappoint in this and every other aspect of the track. Combining elements of 1994, vibrant vocals and one hell of a crushing low end, Hybrid is certainly bringing all the fighting talk to the studio.
"I Challenge You" screams that indirect vibe, sending lick shots to each and every upfront jungle producer across the globe. Featuring a well used vocal sample that really needs no introduction, rolling basslines that are enough to make your toes curl and that ever so popular siren from way back when. Warning!
Layering up vocals and using them as the driving force of a track isn't something that's heard as much as it should be. Thankfully "BeatBox" satisfies all aspects of this with some cleverly laid out chops, twists and rolls, all based around some wicked vocal samples. This one is certainly a new take on the current jungle sound.
"Hear The Drummer" is every self respecting junglists dream. Dread Bass inspired reverse basslines, chopped up breakbeats, damn this thing could have been on every Ray Keith set in 1994! If you're going to draw for an air horn or lighter in the dance, then pull it out all the way through this.
Finishing off with an exclusive VIP mix of Hybrid's previously released "Moving On" from 2016. A similar take on the original which, in essence is what a VIP is all about.
A high value selection from the Serial Killaz camp with each release offering something different. If you can appreciate authentic jungle, upfront beats and everything in between, this one's for you.
Upfront copies exclusively available on the Serial Killaz shop for one week before general release!
Format: WAV
Artist: DJ Hybrid
Title: Puff Puff Pass EP
Label: Serial Killaz Recordings
Catalogue: KILLAZ045DIG
Release Date: 26th October 2018
Words: Jamie S23
DJ HYBRID ONLINE
Twitter | Soundcloud | Facebook
SERIAL KILLAZ ONLINE
YouTube | Twitter | Soundcloud | Facebook