New Release: AJ Mutated - Uneasy EP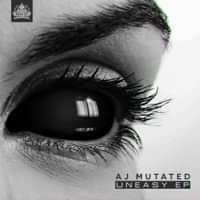 AJ Mutated, one half of the popular duo Mutated Forms, sets his sights on the Serial Killaz imprint to launch his 'Uneasy' EP. A clear choice of label considering the style of fashion of the content. This is a rare selection of jungle breakbeats, hard as nails sublow bass and some wicked lyrics from the one like MC Busta. Rough to the core!
'Uneasy' certainly is just that. From it's precisely filtered out breakbeat intro that delicately flows into a drop it's total opposite that sets the pace and tone for the EP immediately. Vicious digital bass notes connect almost effortlessly with rolling undertones and short but snappy snare claps. You're also treated to an extended breakdown halfway through, just for that extra breather. Right?
Wonky, off pitch keys lead straight into 'Swerve'. A proper dedication to a messy night if you ever heard one. The brain melting synchronisation will either have you reaching for the lazers or camping next to the corner of the bassbin stack.
'Petty Boulevard' knocks on the experimental production door with alien like sub bass that would rip through wooden dance floors like a knife through butter. Old school hardcore heads will no doubt appreciate the cleverly adapted samples in this belter!
A 'PHD In Junglism' you say? That's no doubt reserved for the likes of Serial Killaz themselves no? MC Busta would certainly have something to say about that and this killer track which is totally lyrically led is sure to be one of the biggest hits of the year for any self respecting junglist.
Licking off the EP with nothing short of the brutal 'Pipe Dreams'. A solid head stomper of a riddim that knocks off any preconceptions anyone might have had about AJ Mutated going soft after all these years.
A certified roughneck EP. No further comment.
Upfront copies exclusively available on the Serial Killaz shop for one week before general release!
Format: WAV
Artist: AJ Mutated
Title: Uneasy EP
Label: Serial Killaz Recordings
Catalogue: KILLAZ047DIG
Release Date: 30th November 2018
Words: Jamie S23
AJ MUTATED ONLINE Soundcloud | Facebook
SERIAL KILLAZ ONLINE
YouTube | Twitter | Soundcloud | Facebook