Marcus Visionary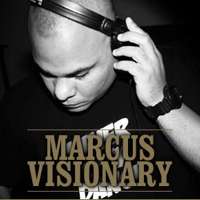 DJ/Producer Marcus Visionary has been in the music game for over two decades and is widely regarded as a pioneer of Toronto's Jungle Drum & Bass scene. His love and passion for British bass culture has also pushed him to explore and promote U.K House & Garage since the mid 90's.
Known by his peers as a DJ'S 'DJ, Marcus prides himself on clean mixing, musical versatility and his ability to adapt to any crowd. In his hometown Toronto, Marcus ran North America's longest running Jungle DnB radio show  'The Prophecy'  on 89.5 FM for 20 Years. Kool beckoned and in 2014 he made the jump to the legendary Kool London station to start the 'The Visionary Mix Show'.
Onto the music and Marcus cut this teeth as part of Visionary with early releases on labels including Vinyl Syndicate Recordings, Flex Records & Hustlin Beats  at the turn of the century. Visionary really hit form in the mid-noughties with tunes like No. 9  Dub , Sail On and Soundboy Burial perfectly blending the drum, bass and reggae vibes together to create dancefloor monsters. By the end of the decade Marcus had set out on his own with a string of releases on various international labels including the cracking 'Humble' LP on Liondub International records and 2014s 'Computer' LP on the Necessary Bass Imprint in the UK.
Over the two decades of his career Marcus has appeared on labels including Digital Soundboy Recordings, Revolve:r, 31 Records, Trouble On Vinyl, Flex Records, Play Muzik, Horizon, Irish Moss, Liondub, Necessary Bass.
Watch out for forthcoming music projects on Liondub International, Serial Killaz, Necessary Bass, Benny Page's 'High Culture' imprint, and his very own imprint Inner City Dance.
For Bookings:
U.K/Europe: Tania@umcmanagement.co.uk
Canadian Bookings: djslimpickins@gmail.com
U.S Bookings: djsaya@gmail.com