FLeCK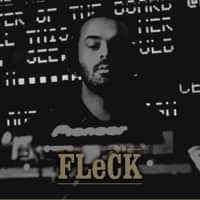 FLeCK is an electronic music producer and DJ, pioneer of the Greek underground scene and member of the Kings Hi Fi crew.
FLeCK started producing in the early 90's making a variety of Electronic music from Breakbeat and Jungle through to Dub and Hip Hop. In 2009 he released his debut album 'ìDub Museî' and since then has released music on various record labels from around the world such as Six Degrees, ODG, Bracket Records, King Dubbist, Generation Bass, Reggae Roast and holds well over 40 releases under his belt.
FLeCK's music, is characterized by a strong Roots Reggae and Dub vibe mixed with Jungle breaks and fat bass sounds. It has found its way into the record boxes of the likes of Public Enemy's DJ Lord, Diplo, Toddla T, Rusko and many more.
He has collaborated ,written and remixed tunes for artists such as Zion Train, Nanci Correia, Clinton Sly, Ancient Astronauts, Fitta Warri, King Bracket, I-lodica, Jonas McCLoud, Bay B Kane, Roommate, Demolition Man, Se Fire, Sisyphos, Parly B, Ed West, Tenja and many others.
The last few years have seen him play at clubs and festivals in countries such as The UK, Austria, Croatia, Spain, Netherlands, Italy, Slovenia, Greece and has shared the stage with artists as prestigious as Horace Andy, Alborosie, Congo Natty, Zion Train, Dub Pistols, Mungo's Hi Fi and many, many more.
His current single, 'What A Ting' features the vocals of British MC, Parly B and has been receiving plays from both radio and club DJ's throughout the world.