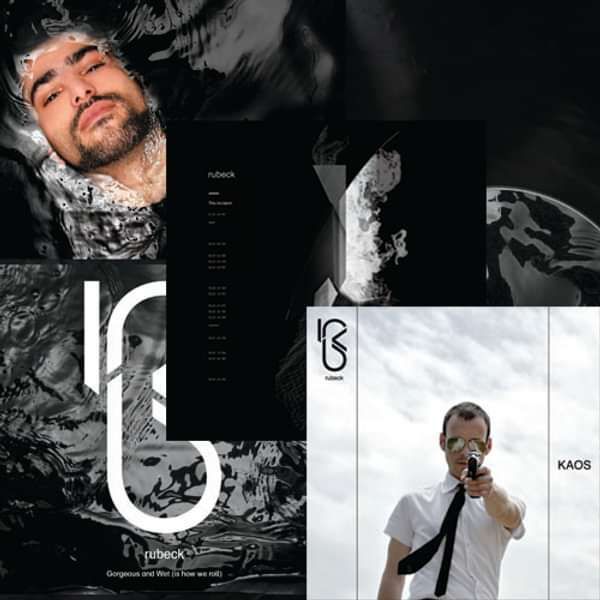 3CD bundle
This bundle contains rubeck's 3 CD releases at a special 20% discount price.
$31.01
Select from options below to add to basket
This bundle also includes:

The Incident (Aquavit records/Unsigned, 2014) - LTD CD Box

The Incident (Aquavit Beat / Unsigned, 2014) limited numbered edition box.

This edition includes:

1) The Incident CD (13 tracks) in a manually stamped and numbered envelope. 2) A poster by Horacio Cassinelli (www.horaciocassinelli.com) 3) A poster by David Ducros (www.studio-d-plus.com) 4) A paper strip perfumed by Oliver & Co. (www.oliverandco.es) 5) A white badge with black logo. 6) A white pencil with black logo.

The edition is limited to 500 copies!!!

This bundle also includes:

KAOS (Unsigned, 2016) - CD

3rd Album Limited Edition CD featuring 3 bonus tracks

On March 31st rubeck's new album KAOS (Unsigned, 2016) was released on CD/digital formats. You can order the CD now.

This new release is closer to the earlier works, and comprises mostly electronica and IDM. You can listen to the whole album on Soundcloud https://soundcloud.com/rubeck_kaos/sets/kaos-1

The album (4 Panel Inside Opening Gatefold CD) features the following tracks:

Back Home
G in X out
Paris
Sci-fi
Bipolar
Shallow
Havok
Hell low
News
13.512
Classified

Back home (extended)
In the beginning
Revenue (negative mix)

As an added bonus with every order, you'll receive a couple of exclusive rubeck badges (white logo on black background).

This bundle also includes:

Gorgeous and Wet (is how we roll) (Aquavit Records / Unsigned, 2010) - CD Digipack

RUBECK - Gorgeous & Wet (is how we roll) – Press Note to the 1st Edition (2008)

Gorgeous & Wet (is how we roll) gathers 8 tracks which go through different parameters. A work that makes both our feet and neurons dance.

Rubeck gets to this in an album that ranges from electro-techno style, clearly influenced by new beat and idustrial touches in 'Arbeit!', dark 80's in 'Alig' and vindicating and proud electro pop in 'Demonstration'. We can find twisted pop pills in 'Sisters' or SoftCell-ish sounds in '13th blonde'.

Also progressive, evocative and epic ingredients in 'Wet' where melodies melt together in playful rythmics which take us to works by people like Artial Parts or Fairmont, or labels like Border Community or BPitch Control. The artist has made it to introduce a lyric touch to outline even more his personality in the bleak 'Zeitgeist', where his collaboration with Raquel Meyers results in an alienating and pesimistic feel on the new world order we live in, supported by an electro-trance base which seems signed by Kraftwerk themselves, if these Düsseldorf guys had had a female vocalist). An album which shows us an artist whose work has references from european avant-garde in the last 30 years but with a contemporary, urban, ambitious and cosmopolitan finish.

The release took place on June 2008 through i-Tunes and now in October, in CD format through the multinacional distributor PIAS.