Chronicles (2)
Seeing that the Pier sold out soon quickly and many of you have been hassling me...
Tickets here --> Chronicles 10 Tickets
Seaside Tour
Something about the sea air does me wonders... Excited to be going to towns "off season" when I am in my "on season."
Germany/Swiss Tour!
I'm looking forward to joining my friend Rob Lynch and his band on tour in December, including my first trip to Switzerland.
The End of the Pier Show!
To celebrate 10 years of "The Chronicles of a Bohemian Teenager" I will be playing it in full with full live band on the end of Southend Pier. I will also be playing some new Recreations material as support.
New Video: Lifestyle Concept Store
A song for the venues lost to wine bars, apartments and train stations.
https://www.youtube.com/watch?v=F2h5XGSNJp0
New Album / Tour / Single!
It's all go here. Very proud and excited to introduce you to "Baby Boomers 2." This is my first full length record as Recreations (after last months Digital Ghettos EP.) I'm really pleased to be putting out with Xtra Mile.
This is available now to pre order in the store with lots of incredible bundle options (including tour tickets) here
I'm also really excited to come out and play for you all. I've been working away blending the new and old and have a set that spans 10 years but is very Recreations. Joining the tour will be my good friends Rob Lynch and Sean Mcgowan who will be taking it in turns as to who goes on first, gets too drunk and has to look after the other. I can't wait!
Tickets available here:
There is also a brand new tune up here for you all you to enjoy, the first single from the lp, Neoprene. This will come instantly as soon as you pre order the record!
Digital preorder here:
iTunes: http://smarturl.it/BabyBoomers2_iTunes
Recreations - Digital Ghettos OUT NOW!
Download: http://smarturl.it/DigitalGhettosXMR
iTunes: http://smarturl.it/DigitalGhettosiTunes
Icicle
Digital Ghettos EP
I'm pleased to announce a brand new Recreations ep is coming out on Xtra Mile on Feb 5th. Pre order today to get a brand new track "Built to last" - Streaming across all digital platforms.
Digital Ghettos: Pre Order the EP
New Recreations! Tour!
Looking forward to opening for myself on tour. 1 Hour of get cape/sd acoustic songs, after 30 minutes of brand new music, as the first Recreations shows commence!
New Video! ----->
Recreations - What's left is now online! Link in the side bar.
Full explanation of Recreations here: https://www.facebook.com/getcapewearcapefly/videos/10153162259171434/
Free Mixtape and Tour!
I don't really know why I haven't thought of doing a mixtape before! After playing around for a bit, it feels like a really natural medium. So presenting to you... College Font! 29 minutes of new music and ideas and its free to download ---->
To celebrate I'm heading out on tour in a few weeks time!
New Shows!
Excited to announce a new batch of shows, including the first shows with a new band Sam Duckworth & (The Brackets)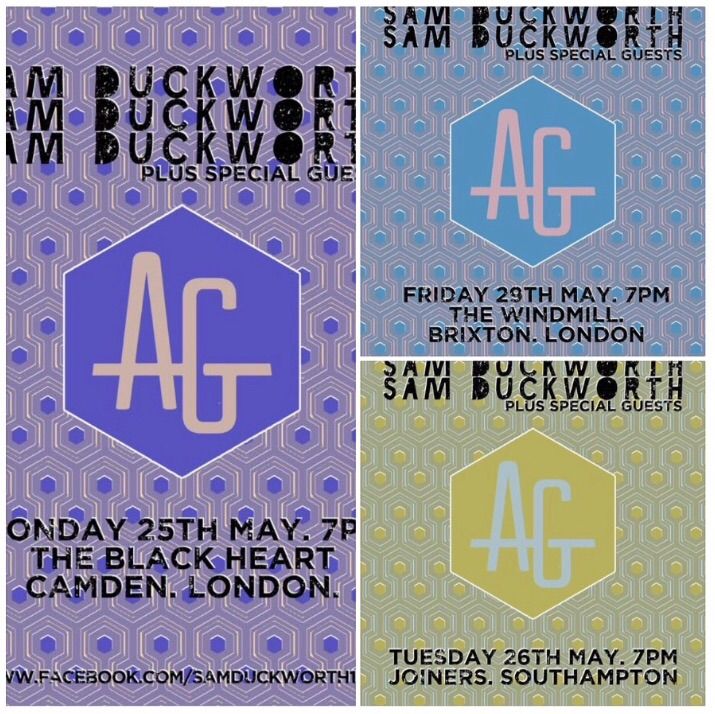 Sam Duckworth (Solo Acoustic)
24/05/15 @ Innocent Festival
25/05/15 @ The Black Heart, London
26/05/15 @ The Joiners, Southampton
29/05/15 @ The Windmill, London
17/06/15 @ Sound Control, Manchester
18/06/15 @ The Arts Club, Liverpool
19/06/15 @ The Attic, Glasgow
30/08/15 @ Victorius Festival, Southsea
Sam Duckworth & (The Brackets)
24/06/15 @ The Wetlands, Yeovil
25/06/15 @ The Exchange, Bristol
11/07/15 @ Village Green, Southend on Sea
European Tour
I'm chuffed to have been asked to support Andy Burrows on his upcoming European dates.
Really excited to get back out on the road playing some new songs!
23rd Jan Rotterdam - Rotown
24th Jan Eindhoven - Effenaar
25th Jan Zwolle - Hedon
27th Jan Den Haag - Paard Van Troje
28th Jan Haarlem - Patronaat
30th Jan Nijmegen - Doornroosje
31st Jan Groningen - Oosterpoort
1st Feb Utrecht - Tivolivredenburg
5th Feb Berlin - Privatclub
6th Feb Warsaw - Hydrozadka
7th Feb Hamburg - Molotow
9th Feb Munich - Orange House.