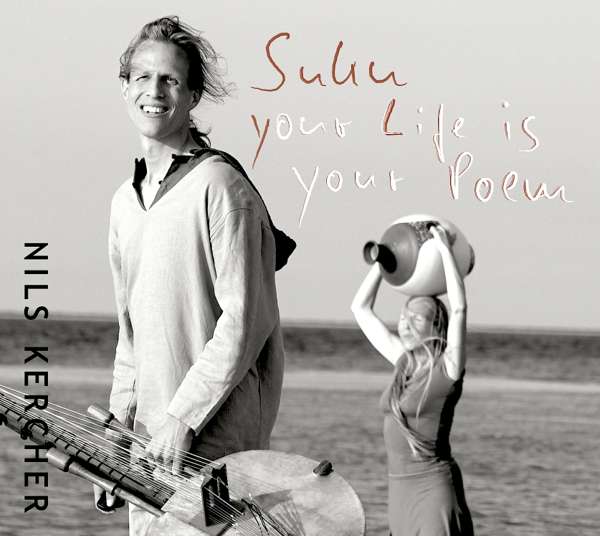 SUKU - Your Life is Your Poem (CD)
includes free download of album
Unbroken Spell (4:57)
Tamala (7:02)
Djigi Tshena (6:43)
The Night (6:16)
Naboulou (6:00)
Suku - Your Life is Your Poem (9:15)
Tuuli Itkee (7:45) 8. Yiri Fere (6:44) 9. Of Water and Sand (6:05)
This bundle also includes: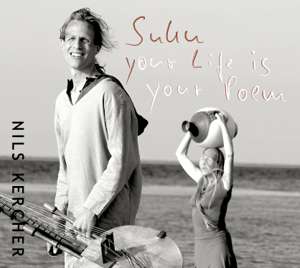 SUKU - You Life is Your Poem (mp3)
album Nils Kercher, SUKU - Your Life is Your Poem (2016)
"...wonderful new album ... great tracks brimming with kora and fantastic vocals" (BBC / UK)

"This is no cut-and-paste exercise but a genuine fusion....often sounding as if it comes from the Real World catalogue." fROOTS MAGAZINE / UK

"This album offers a beautifully crafted dream-world of shifting rhythms and many layered voices.. the insistent pulse creates an effect much like the music of Steve Reich. Track to try: "Tuuli Itkee" (SONGLINES / UK)

"the finest world music crossover, the kind that is rare to find.... "You keep discovering new subtleties even after repeated listening... The arrangements are extremely clever and the sound quality at the highest technical standard....Suku - Your Life Is Your Poem is an album to savor. This is music making at the highest level and a must listen to any world music fan. Nils Kercher proves that he can be considered as one of the outstanding world music artists. Recommended!" (Musik an Sich / DE)
---
On his third album SUKU we hear the highly versatile musician amidst his band as a proficient kora and balafon player, as an imaginative master of percussion, and as an expressive singer with a broad-ranging repertoire of timbres. Powerful Afro rhythms, swinging balafons and minimalist string-playing form a series of fantastic contrasts while later passing into an almost sacred sound space with a quietly oscillating pulse. His partnership with Kira Kaipainen continues to be a central element. Her soft voice and her lyrics accompany Kercher on a journey of sound that still draws its nourishment from its West African roots while constantly seeking out new paths of its own and at the same time embracing the vast Nordic landscapes. Martinique singer Sylvia Laubé blends in perfectly with Kira´s Scandinavian tone colour to create the harmonious and rich choirs the listener finds throughout the album. Kercher has also invited the Senegalese singer Mariama Kouyaté to perform the song "Yiri Fere" as a duet. Her exquisite voice flowers beautifully in this moving composition.
The ngoni virtuoso Barou Kouyaté brings an earthy colour to the musical texture. In addition, his acoustic guitar accentuates Kercher´s melodic kora playing with great sensitivity. The two artists, who come from very different backgrounds, share a natural and organic musical dialogue, which attests to their extraordinary flexibility and poise. Alongside the dialects Soussou and Malinke, spoken in Guinea, the album also features lyrics in Bambara, the chief language of Mali and includes tunes written in English and Finnish. The nine songs feel like a cycle of verses that can leave you enchanted long after the music has faded away. Kercher´s achievement is to successfully merge the lyrical, refined aspect of his compositions with his passion for rhythm and energy. The way these two opposites always manage to regain their balance is what makes listening to SUKU such a fantastic experience.
Unbroken Spell (4:57)
Tamala (7:02)
Djigi Tshena (6:43)
The Night (6:16)
Naboulou (6:00)
Suku - Your Life is Your Poem (9:15)
Tuuli Itkee (7:45)
Yiri Fere (6:44)
Of Water and Sand (6:05)
This bundle also includes: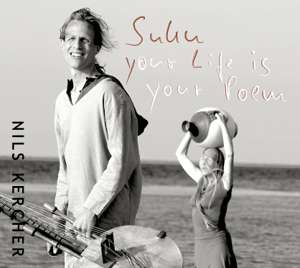 SUKU - Your Life is Your Poem (CD)
album Nils Kercher, SUKU - Your Life is Your Poem (2016)
Unbroken Spell (4:57)
Tamala (7:02)
Djigi Tshena (6:43)
The Night (6:16)
Naboulou (6:00)
Suku - Your Life is Your Poem (9:15)
Tuuli Itkee (7:45)
Yiri Fere (6:44)
Of Water and Sand (6:05)