Exploring New Grounds: How one of Hull's finest singer-songwriters, 'Yasmin Coe', is taking her career from her hometown of Hull to Manchester.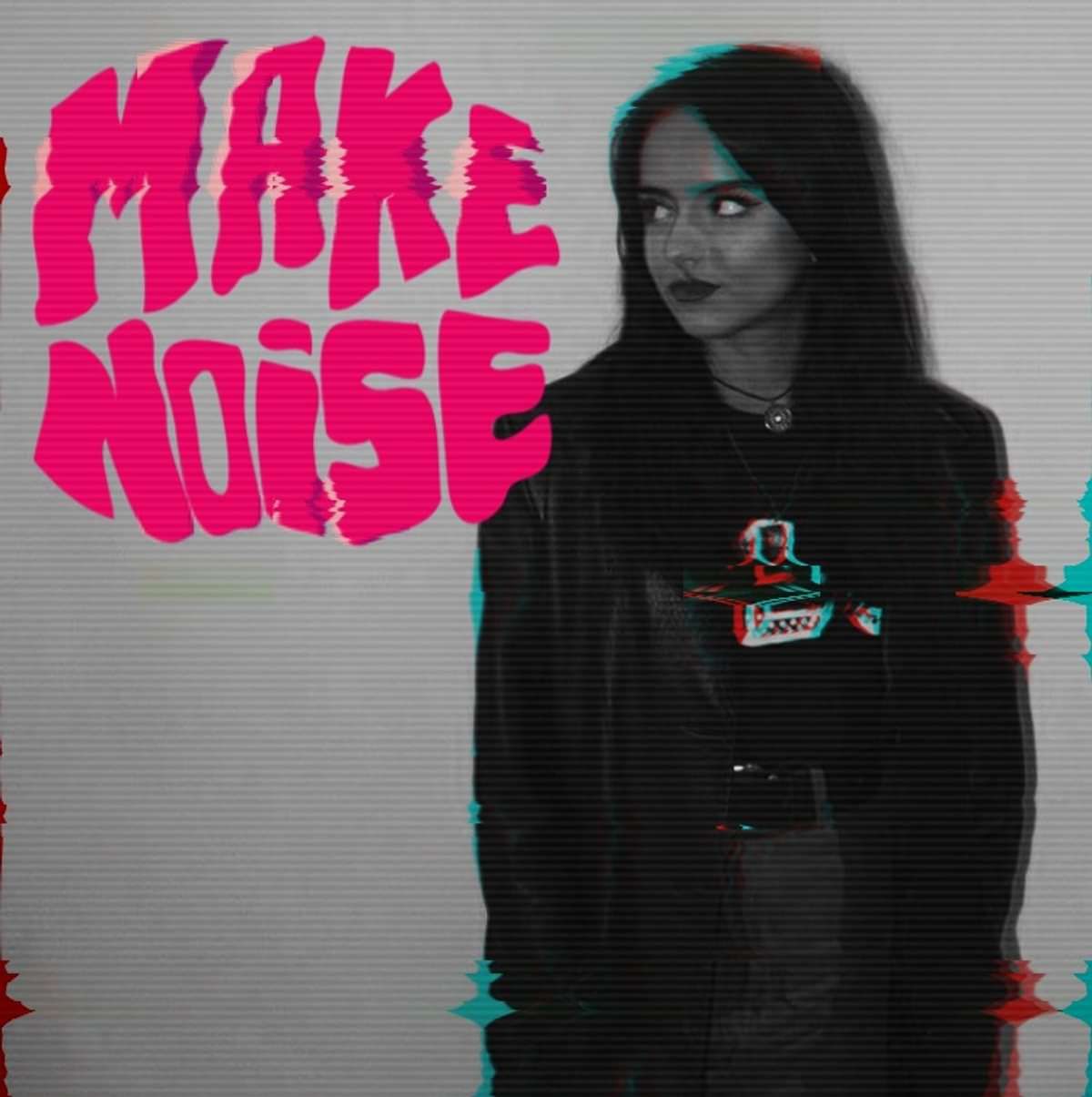 Lucy spoke to female indie-rock artist, Yasmin Coe, about her new single 'Give Time' and the evolution of her sound upon her venture into adulthood.
It has been nearly two years since nineteen year old Yasmin Coe released any music, however after taking a break from the scene to focus on her artistry, Coe plans to release her new single 'Give Time' on the 30th of this month. Utilising sounds comparable to that of Radiohead and Wolf Alice, the announcement of her new material has been met with heaps of anticipation. To discuss her new outlook on her approach to writing and life in Manchester, I had a chat with Coe as part of Make Noise.
"It's sort of about that unrequited love and the feelings that come with it," admits Coe discussing the main themes of the new single, "and waiting for something and the expectations that come with new love." A prevalent theme in Coe's material is the trials and tribulations that come with relationships which is also approached in 'Give Time', with the lyrics alluding towards questioning new love. There is certainly an air of vulnerability and perhaps discomfort as Coe begins to dissect the true meaning of the single; whilst she may laugh off certain stories that led to the song's creation, there is a much darker element to the song as she poses, "It's also about me putting my all into something and not getting that back. I suppose it's about getting used by guys too." From originally producing guitar-driven, upbeat indie hits like 'Smoke' and 'Cheap Leather', 'Give Time' presents the swift U-turn that her sound has taken to encompass her exploration of new musical avenues as well as the lessons learnt in her journey to adulthood.
As the poster girl for Hull's incredible and everchanging music scene, her artistry is leaving a lasting impression on her peers, alongside her iconic gracious demeaner as a role model towards her growing teenage fan base. Having watched Coe grow as an artist, bursting into the scene at just twelve years of age, it is impeccable to watch her mature into a well-rounded and streetwise individual in such as vast and competitive industry. With this, she has previously headlined the likes of Hull's Humber Street Sesh and Freedom Festival. Whilst she began as an acoustic artist, she is now joined by a full live band incorporating the drummer John Andrews, guitarist Matt Edible, bassist Lloyd Dobbs and Coe on rhythm guitar and vocals. Coe expresses that, "Obviously the sound of the song is a lot heavier than my previous releases because of the influence of the band…and it's been a really exciting process to watch it grow especially in the recording stages," as she outlines that her new single has been through many alterations before the final edit.
This is the definite sign of a fantastic song and songwriter.
Whilst Coe's ethereal vocals provide the song with a passionate rawness, Edible decorates each segment with screaming guitar licks and cacophonous bites of feedback that reinforce the emotional journey Coe takes her listeners on. Upon dissecting the song's many elements, Coe explains how she wanted to provide her listeners with a "mysterious atmosphere that's almost sounds celestial." "I've been listening to a lot of Goat Girl recently which has really inspired my writing," Coe refers to the alternative female London rockers, which explains the raspy bite of her vocals throughout 'Give Time' to provide it with a sense of bitterness and pain. With the influences of the deliciously haunting vocals of Izzy Baxter Phillips from the Brighton born band 'Black Honey' and the deafening musical roars of the London born grunge band Wolf Alice, Coe is using her musical expertise and exquisite taste to her advantage to produce music of a similar ilk. When watching Coe perform, it is incredibly difficult to not mistake her for Ellie Roswell ('Wolf Alice') as she carries the same confident and self-assured artistic persona as her idol. From a first listen to the song, 'Give Time' is the perfect eclectic mix of beauty and anguish.
From the mere mention of the song being mastered at 'Abbey Road Studios' in London, I had to ask Coe about the process and what led to the decision to send the song over. "So because my band are in connection with another Hull band called Fonda 500, they'd heard that they'd got some tracks mastered at Abbey Road…so we had a bit of money saved between us and decided that we'd send the track over since it's always good to have someone else's opinion…and realistically once they (Abbey Road) master something, their name's on it." What you may find surprising is that the track was recorded in Hull by Coe's drummer just before the start of lockdown and the start of the end of the world – the perfect time to record a song! Jokes aside, the fact that the track has been mastered in such an iconic studio famous for its production of various Beatles albums, pushes Coe further into the world of stardom and recognition that she deserves.
Upon recently moving to Manchester for university, how has Coe's new stomping ground begun to take shape on her artistry? "I mean I went to go see 'Jack Conman' (another incredible Hull born artist) recently at a pub called 'The Whisky Jar' and literally it was just surrounded by amazing musicians," Coe informs me of a recent acoustic concert she attended in one of Manchester's hipster bars. Of course, with Manchester thrown into the depths of new lockdown restrictions, this city's music scene is unfortunately under the great threat of heading slowly to its grave. However, Coe informs me that there is at least one fragment keeping Manchester's heart beating – acoustic shows. "The talent in the room was just astronomical! I was sat there with the biggest smile on my face…I might pop there tonight actually aha!" Applauds Coe as she speaks further about her experience at the hipster bar. Despite the lack of eardrum bursting, headbanging live music, Coe is keen to dip her feet into this new world of performing taking her back to her acoustic roots as she informs me that she has a series of acoustic shows lined up in Manchester in November.
Perhaps this big city could give her the big break that she needs…
Speaking of turbulent times, it is always intriguing to find out how various artists have coped with the lockdown stretching from March to June time. "It was very strange because there was so much time to do things and at the beginning my motivation was really lacking…I'm a lot less panicked about it now than I was at first," Coe recounts. Interestingly, during this time this seemed to be the case for many creatives since their livelihood and reason to breathe had to been taken away from them. "I turned this around however and got really in touch with my spiritual side…I've got lots of lovely little routines which have really sorted my mental state out and with that inner peace it allowed me to start writing some new bits and bobs." From this new outlook on her life, Coe is taking the right steps necessary to understanding herself as an artist and flowering into a grounded individual, which is at the heart of the beginning of a successful and well-rounded musician's career. To describe this new style of writing Coe wisely admits that, "The difficult experiences in life are the ones I take inspiration from and I think that sort of presents the evolution of my music but also me as an individual maturing into adulthood…not just writing necessarily about boys and relationships, writing about in effect the bigger things."
So, what lies ahead for the impeccable songstress? "Well we have a couple more songs recorded that will be released towards the end of the year…I think I've got a lot of different things I want to explore with music," Coe anticipates the release of new material towards the end of the year, teasing the ears of her fanbase, "I think I've just scratched the surface and there's more things to explore musically for me." With this insightful perspective on the avenues of music that she could explore, Coe concludes with a heartfelt and judicious comment on what she would like her audience to take from her artistry stating that, "I'm a massive advocate for embracing who you are as an individual especially since I have vitiligo and have learnt to accept that…also finding that inner confidence to question what you're going through and admitting that something may not be right, then finding the confidence to shake it off and move on."
Armed with this new sense of maturity and a hunger for musical experiments, Coe is not just leaving her career behind in the city that she grew up in, but instead taking on new grounds in a city full of opportunities for her incredible talent. Embarking on new chapters of her career, nobody can wait to see what the new world has in store for her artistry. One thing is for certain that with 'Give Time' released this coming Friday, the explosion of Yasmin Coe's new sound is set to stun her audience and leave them desperate to hear more.
Yasmin Coe's new single 'Give Time' will be released on the 30th of October via Coe records. You can follow Yasmin on her various social media platforms:
Facebook: https://www.facebook.com/YasminCoeMusic
Instagram: https://www.instagram.com/yasmincoemusic/?hl=en
Youtube: https://www.youtube.com/channel/UCdiaClExrk24RBtqiTXuXog
Twitter: https://twitter.com/yasmincoemusic?lang=en
Spotify: https://open.spotify.com/artist/0j4GgXioTvigdt9HuQCrAl?si=s3Ob2COoRj-3RDJTUGUJbQ