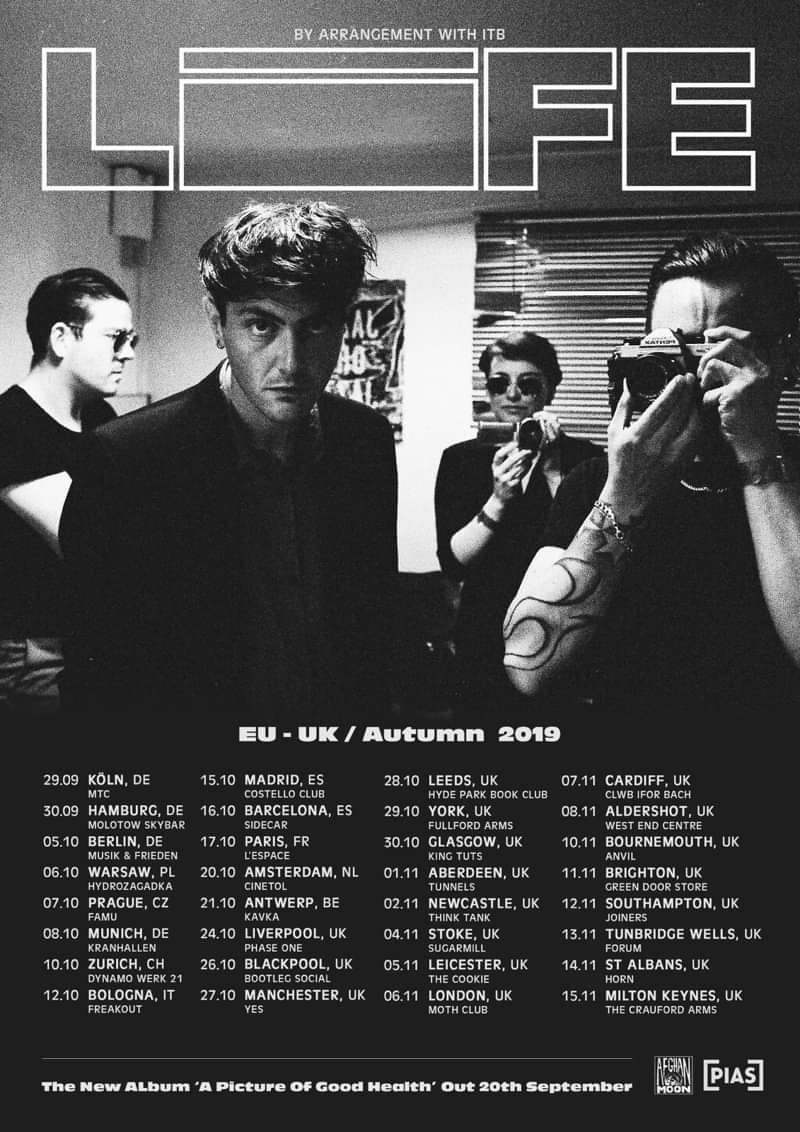 EU - UK / Autumn 2019
LIFE
Buy Tickets
Line Up
Contact: lifeband@hotmail.co.uk
Mgmt: David Manders - david@liquidmanagement.net
Booking: Steve Zapp - steve@itb.co.uk
---
LIFE's critically acclaimed debut album 'Popular Music' was self-released by the band in 2017. It is an album that demands attention, creating a manifesto for the disillusioned, the widely ignored and those who might think they've no means of having a creative outlet. In the last 12 months the band have appeared at numerous festivals across the UK and Europe, headlined for the BBC at SXSW, toured with Slaves, Idles and Nadine Shah, gained playlist adds on BBC 6 Music and had relentless backing from Radio 1, including a live session at Maida Vale, billing at Radio 1's Big Weekend and named in Radio 1's 2017 best album list alongside Stormzy, The XX and Jay Z.
---
Praise for debut album 'POPULAR MUSIC'
"Brilliant" The Guardian
"LIFE combine inescapable energy with unshakeable hooks" Dork
"This is an album to stoke the fires of change" *Kerrang!*
"Whether they're rallying against the establishment or helping us escape, LIFE's debut provides comfort and support for us all" DIY
''LIFE Provide A Mouthpiece For A Voiceless Generation'' Louder than War
''They may not be the first band to claim punk-rock and spit on trends, but it's with record timing that they can tear an entire generation to shreds between their teeth.'' When The Gramophone Rings
---
If the current incarnation of "rockstar" is that of an arrogant, slightly detached reality singer, apolitical in the extreme, beige, spoiled by the industry and surrounded by yes men, then Mez and his gang are here to put the boot in.
As the frontman of punk band LIFE, Mez jumps and dances around the stage with a death glare like Jarvis Cocker making love to Frank Sidebottom and the Sultans of Ping. He tackles themes from Trump to Brexit, mass consumption, police violence and austerity – the bleakness of it all laid bare in songs which punch with clarity and fizz.
The "no-holds-barred" style makes sense when you consider that LIFE are unsigned and through necessity are completely DIY. They answer only to themselves. If they want to talk about politics openly, it will happen, no double-checks or authorisations needed, and that hasn't stopped them from having their songs repeatedly played on Radio 1, and scoring playlist adds on BBC 6 Music from their debut album Popular Music. In May 2017 BBC Introducing asked the band to be one of four special returning acts at Radio 1's Big Weekend. LIFE, of course, were the only unsigned act amongst the major players.
Mez and his brother, guitarist Mick, were raised on 70's punk. In a "working liberal family" they listened to The Clash on the way to school. Of course, their upbringing is reflected in the independent way LIFE create music, but it's also a pretty clear influence when it comes to the band's very political subject matters. Unlike a lot of people in the music industry, Mez and Mick do not write from the perspective of someone who only experiences the bad stuff through newspapers, sat in a plush studio or a bedroom distant from reality. Far from it, they write sharp social commentary that depicts their surroundings with refreshing honesty and wit. Furthermore, both Mez and drummer, Stew, are youth workers in one of the poorer regions of Hull, and they see first-hand the real impact that austerity and cuts are having on the vulnerable. They work at The Warren Youth Project, a charity run by young people for young people. The project provides vital creative arts, mental-health and support services for a marginalised young community, and consistently facilitates innovative and groundbreaking projects that establish meaningful and sustainable opportunities for vulnerable young people within music, the arts, health and media. The band enthuse about this country's most "important resource," and are notably "incensed with anger" by elite decision-makers who so often disregard young people.
All this considered, of course LIFE's music is angry. How could it not be? It's refreshing, considering rock music seems content in its sterility. Being apolitical and disengaged with reality has for the past few years been the trend. LIFE buck this trend and through their undying passion and unquestionable determination offer a very real alternative, they "provide" a voice for the disengaged.