Women in Jazz Media presents:
Betty Accorsi Quartet and Growing Roots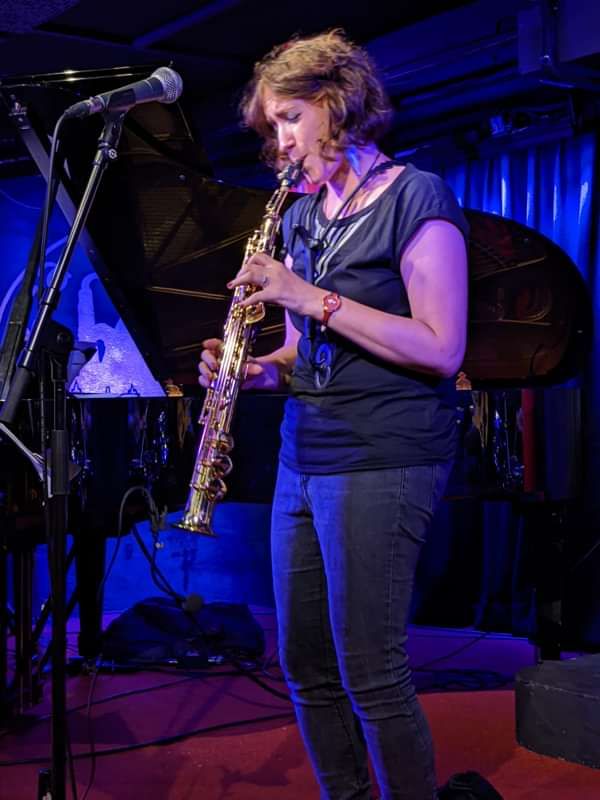 Women in Jazz Media present: Betty Accorsi Quartet and Growing Roots
An evening to celebrate Betty Accorsi's latest album Growing Roots released on Friday 15th July 2022 with support from the Help Musicians MOBO Grant. The quartet features acclaimed London musicians Daniel Hewson (piano), Andy Hamill (bass) and Scott MacDonald (drums). The album is a journey along the coastal area of Brighton, where Betty took six pictures and wrote one song for each picture. Her songwriting will use influences as diverse as Pat Metheny, Björk and the Great American Songbook to transport the audience right into each scene, complemented by Betty's flamboyant soprano improvisation, blending Coltrane, Garbarek and Surman.
Betty Accorsi is an Italian saxophone player, multi-instrumentalist and composer currently based in Brighton. She studied classical saxophone, piano and composition at the Giuseppe Verdi Conservatoire in Milan.
In Italy, Betty was involved in projects spanning from contemporary music ensembles with composer Salvatore Sciarrino to the progressive rock band Psicosuono, which released two albums (Eta Carinae, Metropoli).
In 2018, she moved to London and started a Master's degree in Jazz Saxophone at Trinity Laban Conservatoire with a scholarship. Trinity's academic environment includes leaders in the London jazz scene such as saxophonist Jean Toussaint and composer Bruno Heinen. Searching for a more open-ended approach to artistry and composition, Betty moved to Goldsmiths University of London in 2019. She completed her Master's in Performance under the guidance of Mick Foster, Paul Bartholomew and Dr Pete Furniss, graduating with a distinction. After completing her studies at the height of the 2020 pandemic, Betty moved to Brighton, where she currently teaches to students, schools and big bands.
Betty is part of acoustic duo called Sloth in the City, formed in 2018 with percussive fingerstyle guitar player Andrea Martelloni. Their EP Remember Music, recorded in 2021 in London, is composed of originals that blend jazz forms with Celtic folk and Mediterranean music.
Betty's main project is the Betty Accorsi Quartet. This was founded with pianist Finn Carter and drummer Scott MacDonald; they were the finest musicians in her year at Goldsmiths and very popular in the South East of London. The quartet also features in-demand bassist Andy Hamill (Van Morrison, Martin Taylor, Ibrahim Maalouf).
In December 2020 they released The Cutty Sark Suite, an album of original compositions that introduced the Quartet's sound as jazz blending elegant soprano melodic lines with an intense rhythm section that is punk-like at times. The Quartet was also part of the 2021 Brighton Fringe Festival, playing The Cutty Sark Suite in its entirety on a live-streamed gig.
The second album "Growing Roots" was released on the 15th July 2022 featuring pianist Daniel Hewson (Groove Armada, Madonna, Incognito), drummer Scott MacDonald and bassist Andy Hamill. Betty's approach has evolved into a refined, evocative, lyrical jazz blending her many influences into a cinematic style reminiscent of Pat Metheny, John Surman, and Jan Garbarek. Growing Roots was funded by Help Musician's Music Of Black Origin (MOBO) Award.
Band Line-Up Lead – Betty Accorsi (sax and vocals)
Piano – Daniel Hewson
Drums – Berker Banar
Bass – Andy Hamill
Web links https://www.bettyaccorsi.com/ YouTube links https://www.youtube.com/channel/UCYIPDdUD9KWxRcIvCWiaMUw
Press quotes "Her compositions take you where she says the music belongs" (Simply Jazz Talk)
"In a short space of time, Betty Accorsi has staked her claim as a talent to listen out for (…) forging a quartet that is distinctive and able to interpret her constantly shifting compositions" (Jazz Views)
"… simply elegant, superbly crafted, sumptuously melodic jazz…" (All about Jazz)
Doors open at 7pm, music starts at 8pm. Please book a ticket in advance. Tickets £10 www.musicglue.com/karamel
VENUE: Karamel, 4 Coburg Rd, Wood Green, London N22 6UJ