Collage presents:
Steve Fishwick Quartet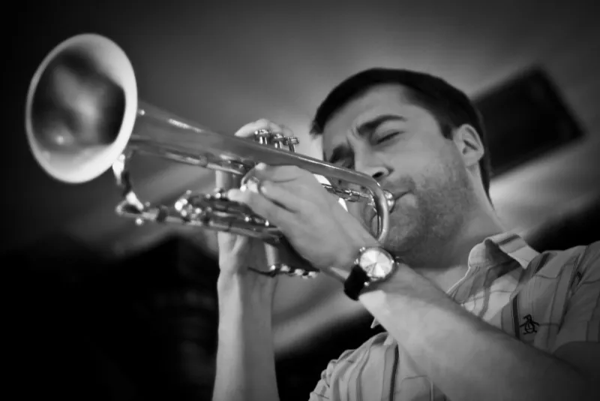 "...Steve Fishwick on trumpet reaches for inventive phrasing others would decline to persue, never going for an easy option or well worn cliché..." - (Roger Farbey, All About Jazz)
*Band Line-up: Steve Fishwick (trumpet), Leon Greening (piano), Matyas Hofecker (bass), Matt Home (drums). *
Steve Fishwick is widely considered to be one of the best jazz trumpet players ever to come from the UK, and is rapidly gaining a global reputation thanks to his flawless technique and his beautifully flowing, harmonically rich improvisations. He is one of an increasing number of trumpeters who have been heavily influenced by the melodic approach of the late great Kenny Dorham, a figure often overlooked (and undeservedly so) in the pantheon of Jazz Trumpet Legends. As well as "K.D.", Steve cites Art Farmer, Miles Davis and Woody Shaw among his favourite players, but his style is very much his own. Trumpet great Wynton Marsalis recently said about him "Steve has his own style. He plays from the bottom to the top of the horn whilst maintaining the integrity of the chords. I can't think of another trumpet player that can do what he does." Legendary Jazz critic Ira Gitler had this to say 'My question is where has Fishwick been hiding? Hip middle register melodious bebop, but when Steve lights his wick he becomes a flying fish, soaring above the waves, totally in control!'
Doors open 7pm, music from 8pm.
A pre-show menu is available from 6.30pm. If you'd like to reserve a table, email karamel8775@gmail.com with your arrival time and group size.