Collage presents:
Charlotte Keeffe Quartet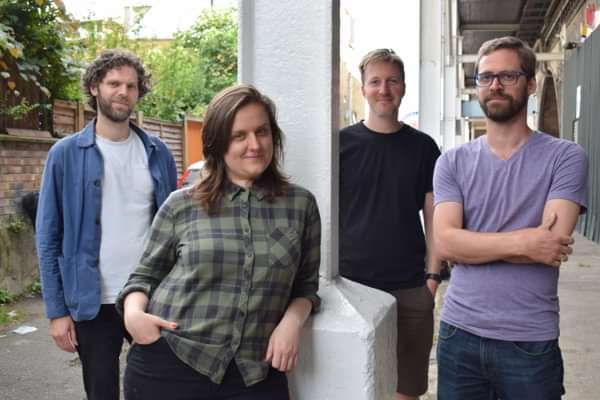 Photocredit: Lara de Belder
Collage presents Charlotte Keeffe Quartet - Right Here, Right Now
'…Keeffe shows notable strength of character as she runs the sonic and emotional gamut.' - Kevin Le Gendre, JAZZWISE
Charlotte Keeffe's unique approach and passion for improvisation, jazz and experimental music making sees her performing regularly as a soloist and as part of a variety of different ensembles, including her own Quartet.
Her Quartet is Ashley John Long (Paul Dunmall collaborator) on double bass, Ben Handysides on drums, Moss Freed (Let Spin) on guitar and herself on trumpet and flugelhorn; they explore merging together Charlotte's compositions with freely improvising.
(The) Charlotte Keeffe Quartet performed a sellout performance at Lancaster Jazz Festival in 2019 and their live recording from Jazz in the Round has been featured on radio shows around the world. Fresh from playing Cambridge, the London Jazz Festival, (London's) Café OTO, Birmingham, Newcastle and Sheffield, (The) Charlotte Keeffe Quartet are delighted to be continuing their U.K. tour Right Here, Right Now, celebrating the release of Charlotte's debut album, Right Here, Right Now.
Right Here, Right Now features a selection of Charlotte's improvised works for solo, duo, quartet and (the) London Improvisers Orchestra, it's out now on the Discus Music record label;
Band lineup: Charlotte Keeffe - trumpet, flugelhorn, compositions Ashley John Long - double bass Ben Handysides - drums Moss Freed - guitar
'Fresh on the scene, trumpeter Charlotte Keeffe is a whirlwind of extended techniques and tactile puzzles, removing the mouthpiece to elicit a windy howl, using her left hand as a mute in the bell of the horn and revelling in restless possibilities.' - Daniel Spicer, JAZZWISE
'…Charlotte Keeffe's blood-red, rasping flugelhorn and trumpet blew breathy cadences and messages as if her lungs were burning with an electricity all of her own.' - Chris Searle, MORNING STAR
https://www.charlottekeeffe.com
Doors open at 7pm, music starts at 8pm. Please book a ticket in advance.
VENUE: MAAD (fka Karamel), 4 Coburg Rd, Wood Green, London N22 6UJ
The premises has a fresh air ventilation system installed throughout the restaurant and theatre. Menu is available at maad.co