EFG LJF x Collage presents:
AKDC band - Indo Jazz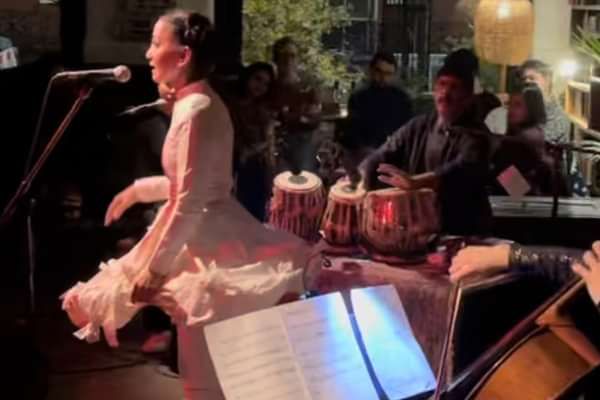 CLOSING GIG OF THE EFG LONDON JAZZ FESTIVAL 2022!
Café Kathak - Launched last year at Café Oto, the AKDC band brings improvisational Kathak rhythms to blend with Jazz instruments to create a new never heard before sound to Indo Jazz.
Intricate footwork performed by the critically acclaimed kathak artist** Amina Khayyam** to the complex mathematical patterns of Debashish Mukherjee's tabla, and layered by vocals by Sohini Alam, cello by Iain McHugh, sitar by Jonathon Mayer, and vocalised parhants by Jane Chan.
A critically acclaimed performer, choreographer and dance theatre maker, Amina Khayyam began her Kathak dance training with Alpana Sengupta in Croydon progressing to professional level with Sushmita Ghosh at The Bhavan (London) under whose guidance she made her professional debut at the Purcell Room, Southbank. Alpana introduced Amina to performance and instilled in her a deep passion to pursue it as a career. Kathak, one of the main genres of Indian classical dance, is traditionally regarded to have originated from the travelling bards of North India referred as Kathakars or storytellers. These Kathakars wandered around and communicated legendary stories via music, dance and songs quite like the early Greek theatre. The Kathakars communicate stories through rhythmic foot movements, hand gestures, facial expressions and eye work.
Debasish Mukherjee is among the leading tabla players to have emerged from the great musical hub of Calcutta. He trained with the doyen of the legendary Benares gharana, Pandit Kishan Maharaj, as well as with his father Pandit Kanai Mukherjee and with his father's Guru, Pandit Nanku Maharaj, for over two decades from 1976. A sought-after soloist and accompanist for music and dance, Debasish has played for such luminaries as Pandit Birju Maharaj (dance), Ustad Rashid Khan (vocal), Pandit Rajan Shajan Mishra (vocal) and Pandit Budhaditya Mukherjee (sitar) amongst others. An "A-grade" artist with All India Radio, Debasish maintains a performance profile in India, the UK and Europe.
As a vocalist, Sohini Alam has worked on music for dance, theatre, and film. She is the lead singer of the bands Khiyo, Lokkhi Terra and has performed internationally on stage, radio, and television. Sohini is trained primarily in Nazrul Sangeet but has since branched out into folk, Rabindra Sangeet and contemporary music. While she sings mainly in Bengali, she has also sung in English for After Art, in English/Spanish for Lokkhi Terra and in English/Hindi for Kanjoos – The Miser, Dick Whittington Goes Bollywood, and Bollywood Cinderella. She sang in Tamil and Roma for a collaboration with the Mongooses Musical Playbox and in Yoruba for Lokkhi Terra's CubAfrobeat collaboration with Dele Sosimi.
Iain McHugh is a Cellist born and trained in Scotland. Iain studied Cello at the Royal Conservatoire of Scotland under Robert Irvine and Rudi De Groote and in 2013, he joined the Roslin String quartet. Iain has performed premieres in a number of different events festivals across Scotland including: Against All Things Ending (Simon Smith); Harbour Dreams (Oliver Searle); Game (Claire McCue) at The Cottier Chamber Project; many new works in the RCS PLUG festivals; and the operas Welcome Inn (Jason Staddon) and Puddle Wonderful (Matthew Whiteside) at Sound Festival in Aberdeen.
Jonathan Mayer is currently one of the most versatile sitarists in the world, having studied both Indian and western music. He has composed extensively for many genres including jazz, Indian, dance & symphonic writing.
His works have been performed and commissioned by The London Philharmonic Orchestra, Pilsen Philharmonic Orchestra, Docklands Sinfonia, Bohuslav Martinu Philharmonic Orchestra, Erich Gruenburg, Joji Hattori, and his father's band Indo-Jazz Fusions. Jonathan works closely with ZerOclassiKal completing three Arts Council projects – Perserverance, Altered Boundaries and Raga Music, the latter being a commission of ten compositions written for western instruments and tabla. He has also worked with AKDC projects that included an arrangement of Borodin's Nocturne for sitar, sarod, cello & tabla. In 2021 his Sitar Concerto No.2 and Pranam was released on First Hand Records, this was recorded with The BBC National Orchestra of Wales and received glowing reviews worldwide.
Jonathan has performed all over the world including, France, Germany, Russia, United Arab Emirates, USA, Australia, America, Bangladesh, Sri Lanka, and two very successful tours in India which includes a performance at The Dover Lane Music Conference as well as a number of performances for the BBC in the UK. Jonathan is also co-founder of First Hand Records Ltd.
Jane Chan is a choreographer and dance artist trained in Chinese classical, Chinese folk, contemporary, ballet, wing chun and kathak who works in the intersections of choreography, performance, teaching and change instigation. Jane is a member of AKDC since 2014. Independently, Jane is one of the artists of colour steering group at Chisenhale Dance Space, the London Correspondent for dancejournal/hk, a member of Overture 2019/20, Matthew Bourne's New Adventures, a mentor for Arts Emergency and founder of Passion Project, a teaching initiative that aims to share the joy and benefits of movement to non-dance professionals, immigrant women group, older adults with and without dementia.
Jane's works aim to act as catalysts, to invite as many people to a wider conversation about identity, race, collective experience and multiculturalism in contributing to the arts and culture sector by leaving a legacy for our next generation through her being, presence and practices aimed at dismantling, re-distributing and reconstructing the hierarchy of power alongside other people of colour and marginalised communities.
*Doors open 5pm, performance from 6pm. * Venue: McQueens Theatre, 4 Coburg Road, London N22 6UJ Nearest tube/rail: Wood Green (tube); Alexandra Palace (rail).
The gig is presented by Collage Arts Karamel N22 Sessions and ZeroClassikal.